Meet the Visionary Behind the Geometrical Artworks
CLIFFORD SINGER
Las Vegas, Nevada, USA
C-(702) 884 5879
E-mail: CliffordhS@aol.com
Born: Great Neck, New York
1955
Aldrich Museum of Contemporary Art, Connecticut
Armand Hammer Collection, New York
Art Research Center, Kansas City
Artine Artinian Collection, Palm Beach
Celia Ascher Collection, New York
AT & T, Atlanta, Ga.; New Jersey
Bank Julius Baer, New York, Zurich
B4 Publishing, London
Best Products Corporation, Sydney Lewis, Virginia
B.H. Friedman, Art Critic, New York
Boca Raton Museum of Art, Florida
Chemical Bank, New York
Chermayeff & Geismar, New York
Christelijke Hogeschool, Leeuwarden, the Netherlands
Citibank, N.A., New York
Clifford Perlman, Atlantic City, NJ
The Continental Group, Inc., Connecticut
County Federal Savings, Connecticut
David Miller, ADAR, Inc., Atlantis, Florida
Florida National Bank, Jacksonville
General Electric Company, Fairfield, Connecticut
General Instrument Corporation
Giant Foods, Inc., Missouri
IBM Corporation, New York
Koger Properties, Jacksonville, Florida
Landmark Systems Corporation, Virginia
Lincoln Center/List Art Posters, New York
McGraw Hill, New York
Mobil Oil Corporation, Washington
Mondriaanhuis/Archive '90 Reference Collection,
Nederlands
Munich American Reinsurance Co., New York
Needham Harper Worldwide, Inc., New York
Oppenheimer & Company, Inc., New York
Perpetual Mortgage Co., Virginia
Prime Bank, Florida
Nomura Computer Systems America, New York
Reader's Digest, Pleasantville, New York
Revlon, New York
Riverdale Country School, New York
SOSA International, Saudi Arabia
Sylvia Pizitz Collection, New York
Southwestern College, Winfield, Kansas
Texaco, Inc., New York
Trinity University, Texas
TRW, Inc., Ohio
U.S. Trust Company, New York
Xerox Publishing Group, New York
British Museum, London
The Book Museum, The Hague
Canterbury School of Art, London
Chelsea School of Art, London
Foundation Pro, Netherlands
Galerie Denise Rene, Paris
Gemeente Museum, The Hague
Museum of Graphic Arts, Tokyo
Museum of Modern Art, New York
New York Public Library
 Rijksmuseum, Meermano, The Hague
 Stanford University, California
 The Tate Gallery, London
Victoria & Albert Museum, London
Alfred University, B.F.A., 1977
The City College, C.U.N.Y., M.F.A., 1990, President, Graduate Art Students Association
Professional Pedagogical Licenses
New York Secondary, Art; Nevada Secondary, Mathematics, Art
| | |
| --- | --- |
| 1990 | B4 Publishing, Blank Page 4, limited edition serigraph, London |
| 1991 | Lincoln Center/List Art Posters, poster, limited edition serigraph, limited edition sculpture |
| 1999 | ISAMA 99, poster, First Interdisciplinary Conference of The International Society of The Arts, Mathematics and Architecture, 7 - 11 June 1999, Universidad del Pais Vasco, San Sebastian, Spain in association with Department of Mathematics, University of Albany, State University of New York, U.S.A. |
| | |
| --- | --- |
| 1991 | Lincoln Center/List Art Posters, Lincoln Center/Tokyu Bunkamura, Mostly Mozart Festival in Tokyo |
| 1985 | Atel I, an AT&T Company, Atlanta, Georgia, titled Didecameter Suite, (20) painted acrylic on plexiglas panels |
| 1983 | Mobil Oil Corporation Headquarters, New York, titled Lemma III, (2) paintings / oil on canvas (72" x 144" each), (1) painting / oil on canvas (72" x 96") |
| | |
| --- | --- |
| 2001 | Teachers Network, IMPACT II Disseminator Grant, Mathematics and Science in the Art Classroom |
| 1989 | Robert Rauschenberg, Change, Inc., New York |
| 1985 | Summit Art Center, Honorable Mention Award, Juried by Richard Anuskiewicz, Summit, New Jersey, Presented to: Clifford Singer, signed: Ann G. Stein, President |
| | |
| --- | --- |
| 1988 | Art Research Center; Clifford Singer, Associate, Painter, Mathematician, Educator 1988 |
| 2012 | www.the-artists.org |
2019.

EXHIBITION, THE GEOMETRY OF THE BAUHAUS, Foley Federal Building, United States Courthouse, GSA, Lobby, October 2, 2019 - November 12. 2019, 300 Las Vegas Boulevard, Las Vegas, Nevada 89101;  In Cooperation With; iMuseum Vegas, 1995 Whitney Mesa Drive, Henderson, NV 89014, Celebrating: Bauhaus 100 Years

2018.
Foley Federal Building, United States Courthouse, GSA, Lobby, March 14 - April 17, 2018, 300 Las Vegas
Boulevard, Las Vegas, Nevada 89101
https://www.youtube.com/edit?video_id=wXOPDvAXDNw&video_referrer=watch
2017
Foley Federal Building, United States Courthouse, GSA, Lobby, April 26 - May 30, 300 Las Vegas
Boulevard, Las Vegas, Nevada 89101
https://youtu.be/lmHJqi0GRq0
2017
Foley Federal Building, United States Courthouse, GSA, Lobby, Jan. 11 - Feb. 14, Las Vegas, Nevada
https://www.youtube.com/watch?v=tlCZGDdrJRQ
2013
Enterprise Library Art Gallery, Exhibition of Geometrical Art, 25 East Shelbourne Avenue
Las Vegas, Nevada 89123 August 15 - October 15, 2013, Sponsored: Las Vegas, Clark County
Library District, Curated: Denise Alvarado, Director
2013
Whitney Library Art Gallery, Exhibition of Geometrical Artworks, May 23 - July 16, 2013
5175 E. Tropicana Avenue, Las Vegas, Nevada 89122, Sponsored: Las Vegas Clark County Library District
https://www.youtube.com/watch?v=DY39wivU_L4
2013
Foley Federal Building, United States Courthouse, GSA, Lobby, Jan. 7- Mar. 7, Las Vegas, Nevada
https://www.youtube.com/watch?v=F-iPTR5XqLc
2011
Clifford Singer, Retrospective Exhibition, Artworks 1973-2011, Lloyd D. George Federal Building,
United States Courthouse, GSA, November 1 to December 15, Las Vegas, Nevada
https://www.youtube.com/watch?v=0-cRBUpK7RE
2010
Foley Federal Building, United States Courthouse, GSA, Lobby, Oct. 1 – Dec. 1, Las Vegas, Nevada
https://www.youtube.com/watch?v=tlyCjDG7Xpc
2000
Truly Virtual Web Art Museum, Math Marries Art, a virtual exhibition by Clifford Singer (c) 2000,
http://www.lastplace.com/EXHIBITS/VIPsuite/CSinger/index.htm ; May 20th to August 20th, 2000
2000
St. Edmund Hall, Emden Room, University of Oxford, England
1997
NonEuclid World-Wide-Web Gallery, Non-Euclidean Themes by Artist/Mathematician Clifford Singer,
51Bxx - Nonlinear Incidence Geometry, Rice University, Texas
Internet address: http://math.rice.edu/~joel/NonEuclid/singer/
1996
Eich Space, Geometrical Clouds from the Seventies, New York
1994
Compuserve, Fine Arts Forum, The Geometry Of The Heart Ó 1992-1993 by Clifford Singer
1992
Art Research Center, Kansas City, Missouri
1990
Eisner Gallery, The City College, CUNY, Thesis Exhibition, New York
1988
Vasarely Center, New York
1987
Hamideh Bayley Gallery, New York, Soho, Wooster Street, May 1987
1986
Art Investors International, West Palm Beach, Florida
1976
Media Gallery, Thesis Exhibition, Alfred University, Alfred, New York
2019 DUMBO Auctions, December 18, 2019, Brooklyn, NY, US, LOT 68: Clifford Singer – Etude In Resonance (Jupiter) – 1991 - Signed
2019 Bridges Linz, Austria, Johannes Kepler University, ARS ELECTRONICA, Mathematics/Art/Music/Architecture/Education/Culture, Art Exhibition Catalogue,July 15 – 20, 2019
http://gallery.bridgesmathart.org/exhibitions/2019-bridges-conference/clifford-singer
2018 Sotheby's, New York, Prints & Multiples, October 18-22, 2018 / 6:00 PM / Lot
2018 Bridges Stockholm, Sweden, TEKNISKA MUSEET, Mathematics/Art/Music/Architecture/Education/Culture, Exhibition Catalogue
http://gallery.bridgesmathart.org/exhibitions/2018-bridges-conference/clifford-singer
2018
JMM 2018, Exhibition of Mathematical Art, January 10-13, San Diego Convention Hall
http://gallery.bridgesmathart.org/exhibitions/2018-joint-mathematics-meetings/clifford-singer
2017
Bridges Waterloo, Exhibition of Mathematical Art, July-August 2017
http://gallery.bridgesmathart.org/exhibitions/2017-bridges-conference/clifford-singer
2017
JMM 2017, Exhibition of Mathematical Art, Atlanta, Georgia January 2017
http://gallery.bridgesmathart.org/exhibitions/2017-joint-mathematics-meetings/clifford-singer
2016
Bridges Finland 2016, Exhibition of Mathematical Art, August 2016 
http://gallery.bridgesmathart.org/exhibitions/2016-bridges-conference/clifford-singer
2016
JMM 2016, Exhibition of Mathematical Art, January 6-9, Seattle, WA
http://gallery.bridgesmathart.org/exhibitions/2016-joint-mathematics-meetings/clifford-singer
2015
JMM, 2015, Exhibition of Mathematical Art, January 1--13, San Antonio, TX
http://gallery.bridgesmathart.org/exhibitions/2015-joint-mathematics-meetings/clifford-singer
2014
JMM, 2014, Exhibition of Mathematical Art, January 15-18, Baltimore
http://gallery.bridgesmathart.org/exhibitions/2014-joint-mathematics-meetings/clifford-singer
2013
JMM, 2013, Exhibition of Mathematical Art, January, San Diego Convention Center
http://gallery.bridgesmathart.org/exhibitions/2013-joint-mathematics-meetings/clifford-singer
2012
Think Art, Luminous Passage, ArtNight, November 13, Las Vegas, Nevada
2012

http://gallery.bridgesmathart.org/exhibitions/2012-joint-mathematics-meetings/clifford-singer
2011
Math and the Art of M. C. Escher; Mathematical Artists
http://mathcs.slu.edu/escher/index.php/Mathematical_Artists
2010
 JMM 2010, Exhibition of Mathematical Art, January, San Francisco
http://www.ams.org/mathimagery/displayimage.php?pid=313
2009
JMM 2009, Exhibition of Mathematical Art, January 5-8, Washington D.C.
http://www.bridgesmathart.org/art-exhibits/jmm09/index.html
http://www.bridgesmathart.org/art-exhibits/jmm09/singer.html
2008
 Math & the Art of M.C.Escher, Bridges Exhibition of Mathematical Art, July 24 - 28, 2008, Christelijke Hogeschool, Leeuwarden, the Netherlands, Art Exhibition Coordinator: Robert Fathauer, Website Created by: Anne Burns
Jurors: Anne Burns, Robert Fathauer, Nat Friedman, and Cor Wetting
http://www.bridgesmathart.org/art-exhibits/bridges2008/singer.html
2008
 JMM 2008, Exhibit of Mathematical Art, January 6-9, San Diego Convention Center, CA
http://www.bridgesmathart.org/art-exhibits/jmm08/singer.html
2007
 New York Hall of Science, Digital '07: Pattern Finding, 9th Annual International Exhibition of Digital Prints,
October 6, 2007 – January 27, 2008, Organized by: Art & Science Collaborations, Inc. (ASCI), exhibition traveled to: Stevens Institute of Technology, February 1 – March 10, 2008
http://www.asci.org/index2.php?artikel=939
2007
JMM 2007, Exhibit of Mathematical Art, January, New Orleans
http://www.bridgesmathart.org/art-exhibits/jmm07/singer.html
2006
Bridges Conference, London Knowledge Lab – Institute of Eduction, London, August
http://www.bridgesmathart.org/art-exhibits/bridges06/singer.html
2006
 JMM 2006, Exhibit of Mathematical Art, January, San Antonio, Texas
http://www.bridgesmathart.org/art-exhibits/jmm06/singer.html
2005
Joint Mathematics Meeting, Exhibit of Mathematical Art, January 4-8, Atlanta, Georgia
http://www.bridgesmathart.org/art-exhibits/jmm05/CliffSinger.html
2004
Broome Street Gallery, endowed by Robert Lehman Foundation, Artist/Teacher Exhibition, May 19 – 30th
2003
Artist/Teacher Exhibition, Cork Gallery at Lincoln Center, Nov. 1-10th, 2003, sponsored by The New York City Art Teachers Association/United Federation of Teachers, Region 8 of The New York State Art Teachers Association, Judged by: Sharon Vatsky, Director of Education, Guggenheim Museum, New York
2003
Mathematical Connections In Visual Art, University of Granada's Art Gallery, Curated by Nat Friedman, The Joint Meeting of ISAMA 2003 and the 6th Annual Bridges Conference, Spain, July 2003
2003
Rhythm Of Structure, Math Art In Harlem, Curated by John Sims, Fire Patrol No. 5 Art, 307 West 121 Street, New York, New York, January 4 – 31, 2003
2002
 Holtzman Art Gallery, The Bridges: Mathematical Connections In Visual Art, Towson University, July 13th – August 10th, 2002, Towson, Maryland
2002
AULA Gallery [exhibition for ISAMA conference], Pedagogical University Freiburg, announced in Die Zeit Weekly Periodical, July 22nd – 26th, 2002, Freiburg, Germany
2002
The Elements of Geometry, A Group Exhibition, Monique Goldstrom Gallery, New York, March 14 -
April 10
2002
MathArt/Art Math, Selby Gallery, Ringling School of Art & Design, Sarasota, Florida, Feb 22 – Mar 30
2001
Exhibition Of Visual Mathematical Art, President's Gallery, Darbeth Fine Arts Center, Bridges: Mathematical Connections in Art Music and Science, 4th Annual Conference, Southwestern College, Winfield, Kansas
2001
Intersections of Art & Science, 5th International Congress & Exhibition 2001, International Society for the Interdisciplinary Study of Symmetry (ISIS), exhibition at Red Centre, College of Fine Arts, University of New South Wales, Paddington, NSW, Sydney
2001
Art & Mathematics 2001, Koussevitzky Art Gallery, Berkshire Community College, Pittsfield, Massachussetts, February 1 - March 30, 2001, The exhibition organized by ISAMA and draws from the Art
& Mathematics 2000 exhibition at The Cooper Union for the Advancement of Science & Art, Nathaniel Friedman, (Director, ISAMA), Benigna Chilla (Assistant Director, ISAMA)
2001
New Orleans, Joint Mathematics Meetings, (ISAMA) exhibit booth, January 10th to 13th, 2001, Lecture by Ivars Peterson January 13th, 107th Annual Meeting of the American Mathematical Society, 84th Meeting of the Mathematical Association of America, Annual meetings of the Association for Women in Mathematics and the National Association of Mathematicians
2000
Art & Mathematics 2000, The Cooper Union, Albert Nerken School of Engineering, Clifford Singer, Curator, in cooperation with Dept. of Mathematics, SUNY, Albany, NY
2000
MONDIALE ECHO'S, an overview of international abstract - geometric art, Mondriaanhuis,
Amersfoort, Nederland, October 14th, 2000 - June 17th, 2001
1998
Cercle et Carre, (Circle & Square), Gallery of Fine Art; Brent Collins, T. Michael Stephens, Clifford Singer, and W.C. Bodenhamer, Dedication to Michel Seuphor; Vallejo, California
1998
Bechtel Center, Lower Level, for Art & Mathematics Conference '98 University of California, Berkeley
1998
The Presidents Gallery, Darbeth Fine Arts Center, Bridges: Mathematical Connections in Art, Music and Science, Southwestern College, Winfield, Kansas
1997
Boca Raton Museum of Art, Director's Choice: New Acquisitions, July 23 - September 7, Boca Raton, Florida
1997
Abstract-Art Repository, Portfolio Gallery, see More Artists, Internet address: abstract-art.com
1996
Cercle et Carre, (Circle & Square), Exhibition 2, A Modernist (i.e. Constructive) Establishment), Vallejo, California
1995
Art Research Center, Kansas City, Missouri
1994
Compuserve, (GO - Fine Art), (GO - Artist's Forum), 75041.2611@compuserve.com
1994
America Online, Keyword: Art, PCX files, cliffordhs@aol.com
1994
Bruce McGaw Graphics, New York
1993
The 30th Anniversary Of The Lincoln Center/List Poster & Print Program, The Gallery At Lincoln Center
1991
Lincoln Center/Tokyu Bunkamura, Lincoln Center, Print Collection, New York, Tokyo
1990
New York Area MFA Exhibition, Co-sponsored by the College Art Association, Gallery, Hunter College, Voorhees Campus
1989
Gemini Gallery, Palm Beach, Florida
1989
Ann Jacob Gallery, Atlanta, Georgia
1988
Art Research Center, Kansas City, Missouri
1987
Vasarely Center, New York
1986
Aldrich Museum of Contemporary Art, Review: Acquisitions Since 1980, January 11, Ridgefield, Connecticut
1986
Painted Surfaces, The Gallery, Albany Institute of History and Art, Tricentennial Celebration, Juried by Thomas W. Lollar, Director of the Shippee Gallery, New York
1985
Summit Art Center, Summit, NJ, Juried Show '85, January 11 - February 3, 1985, Judge: Richard Anuszkiewicz, Honorable Mention Award, Presented to: Clifford Singer, signed: Ann G. Stein, President
1984
Hammer Publishing, New York
1984& 1983
Sotheby Parke Bernet, Inc., Thirteen Collection Exhibition, Televised Auction broadcast on Channel 13
1983
80 Washington Square East Galleries, Small Works, Juried by Ivan C. Karp, O.K. Harris Gallery, New York
1982
Original Print Collectors Group, New York, Paris, Clifford Singer, Raphael Jesus Soto, Nicholas Krushenick, C.J.Yao, Bud Hopkins, Christo, Agam
1982
Branchville Soho Gallery, Ridgefield, Connecticut
1981
 Pace Editions, New York, Exhibited in sales office of Richard Solomon, President, Sold my seven print
portfolio (Heptameter Suite, 1981) to SOSA International, Saudi Arabia
1981
Aldrich Museum of Contemporary Art, Acquisitions Plus, January 11, Ridgefield, Connecticut
1980
Geometric Abstraction, Clifford Singer - Curator, Organization of Independent Artists, Funded by: National Endowment for the Arts, New York State Council on the Arts, Brooklyn Law School, New York
1980
Soho Center for Visual Artists, Aldrich Museum of Contemporary Art, Mobil Oil Foundation, New York
1980
 Opening Gallery, Coverage of show on Eyewitness News, Channel 7, January 22, New York
1978
 Razor Gallery, 484 West Broadway, New York, NY
1976
North Shore Community Arts Center, 18th Annual Juried Exhibition, May 28 to June 28, 1976, Jurors: Sarah Faunce, Curator of Paintings and Sculpture, Brooklyn Museum; Grace Glueck, Editor and Art Critic, New York Times; Dennis Longwell; Assistant Curator of Photography, Museum of Modern Art
1975
North Shore Community Arts Center, 17th Annual Juried Exhibition, February 1-8, Judges: John Perreault, Critic, Village Voice, Linda Shearer, Assistant Curator of Paintings, Guggenheim Museum, Elke Solomon, Curator, Prints, Whitney Museum, 236 Middle Neck Rd., Great Neck, NY
2007
M&D 2007, ( 5th Mathematics & Design International Conference), July 1-4, 2007, Blumenau (SC) BRAZIL, Clifford Singer, Painting In Structural Space-Time
2005
Art + Math = X, International Conference, University of Colorado, Boulder, June 2-5, 2005, Proceedings: Carla Farsi, Editor, Range Of Curvature, by Clifford Singer, pages 166-168
2005
Monotype, JMM 2005,
http://www.mathartfun.com/shopsite_sc/store/html/CliffSinger.html
http://mathartfun.com/shopsite_sc/store/html/JMMExhibit2005.html
2004
Mathematics & Design, Fouth International Conference, Mar del Plata, Argentina – June 7-12
Geometrical Art As An Applied Science (adapted), pages 131-134
2003
The Joint Meeting of ISAMA 2003 and the 6th Annual Bridges Conference, University of Granada, Granada, Spain, On Mathematics In Art, by Clifford Singer, pages 559-560
2003
Abstracts of Papers Presented to the Mathematical Association of America, Boulder, MathFest, July 31-August 2, 2003, MAA Invited Addresses and Session Papers, Mathematics and the Visual Arts, Page 34, Geometrical Art As An Applied Science, by Clifford Singer
2003
MAM, Mathematics Awareness Month, April, Mathematics and Art, Conceptual Mechanics Of Expression In Non-Euclidean Fields, by Clifford Singer, sponsored by American Mathematical Association, and The Mathematical Association of America, http://mathforum.org/mam/
2002
the 31st InSEA World Congress 2002, NY, The Geometrical In Art, by Clifford Singer,
Center for International Art Education (CIAE), Teachers College, Columbia University
2002
Bridges: Mathematical Connections In Art, Music and Science, Towards A Geometrical Way Of Thinking, by Clifford Singer, Towson University, Towson, Maryland
2002
ISAMA2002, Pedagogical University Freiburg, Mathematics in the Art Classroom, by Clifford Singer
Freiburg, Germany
2002
Teaching Secondary Mathematics, Sixth Edition, Techniques and Enrichment Units, pages 41-42, Sample Lesson – Modern Art, Alfred S. Posamentier – Jay Stepelman
2002
OCTAGON 8, Mathematical Magazine, Vo. 10. No. 1, April 2002, pages 365-369, BRASOV-ROMANIA
2002
Smarandache Notions Journal, front cover, Vol. 13, No. 1-2-3, Spring 2002, Engineering A Visual Field, by Clifford Singer, pages 13-15
2002
 Laboratorio de Computacion, Seeing Is Believing 3, by Rosa Kaufman, Preface by Clifford Singer, 2002
2001
Fragments of Infinity, by Ivars Peterson, John Wiley & Sons, [Clifford Singer, Page 9, Color Plate 1,
The Geometry Lesson]
2001
Smarandache Notions Journal, adapted (Engineering a Visual Field), http://www.gallup.unm.edu/~smarandache/Clifford-Singer-SmGeo.htm
2001
Bridges: Mathematical Connections in Art, Music and Science, 2001, 4th Annual Conference, Developing a Validation Principle in Art, by Clifford Singer, Conference Proceedings
2001
Intersections of Art & Science, 5th International Congress & Exhibition 2001, International Society for the Interdisciplinary Study of Symmetry (ISIS), Engineering a Visual Field, Volume 2, Conference Proceedings
2001
International Journal of Condition Monitoring and Diagnostic Engineering Management, (COMADEM), Volume 4 No. 1, page 38, January 2001 accepted from QRM 2000, IMechE, pages 359 - 362.
2000
FOCUS [The Newsletter of the Mathematical Association of America] December 2000 Volume 20 Number 9, front cover by Clifford Singer, Quartic, 1999, Acrylic on Plexiglass, 30 x 30 inches; feature article by Ivars Peterson, Art Inspired by Mathematics in New York, pages 4-5, (re: Art & Mathematics 2000)
2000
MAA Online, Ivars Peterson's MathTrek, Mathematical Art on Display, November 4, 2000, pages 1-4
2000
Art & Mathematics 2000, The Cooper Union, 56 page color exhibition catalogue, curated, edited, and published by Clifford Singer
2000
QRM 2000, IMechE, Visual Mathematics in Art, by Clifford Singer, Pages 359-362
1999
VisMath; http://www.mi.sanu.ac.yu/vismath/clif/Index.html ; Conceptual Mechanics of Expression in Geometric Fields, by Clifford Singer, Slavik Jablan & Denes Nagy: editors of VisMath
1999
BRIDGES, Mathematical Connections in Art, Music, and Science, 2nd Annual Conference, Conference Proceedings, 1999, Conceptual Mechanics of Expression in Geometric Fields, Reza Sarhangi, Editor
1999
 ISAMA 99, Conference Proceedings, Geometrical Fields, by Clifford Singer Pages 445-452, International Society of The Arts, Mathematics, and Architecture; Universidad del Pais Vasco, San Sebastian, Spain
1999
 ASCI, Art & Science Collaborations, Inc., Artist Catalog, 1999, First Edition
1999
Stephanie Strickland, Poem: Sand and Harry Soot, art works by Clifford Singer
Internet address: http://webpages.mr.net/holmes/SandSoot/SSS/home.html
1998
 BRIDGES, Mathematical Connections in Art, Music, and Science; Conference Proceedings, 1998,
Reza Sarhangi, Editor, Geometrical Poetry, by Clifford Singer - Pages 283-286
1996
MUDFISH 9, Contemporary Art & Poetry, Box Turtle Press, front cover, back cover, frontispiece
1996
Journal of the Print World, Summer 1996, Prints & Posters From Lincoln Center, by Dennis Wepman
1996
Essay by Jill Hoffman, Geometrical Clouds from the Seventies, gallery announcement
1995
 NetGuide, The Guide To The Internet And Online Services, Cyberguide, Fine Arts, February, Page 121- 122, 'Entering the Fine Arts Forum on Compuserve (GO Fine Art) reminds us of our visits to the Metropolitan Museum Of Art'; color reproduction of The Geometry Of The Heart
1995
The Printworld Directory of Contemporary Prints & Prices, 1983/1984, 1985, 1987/1988, 1992, 1993/1994, 1995/1996
1992
Stagebill, Lincoln Center, front cover, July-August
1988
 Vasarely Center, remarks by B.H. Friedman, gallery announcement
1988
The New York Art Review, Krantz
1986
Arts Magazine, October, page 98, full page color, Art Investors International
1986
Palm Beach Daily News, April 22, Paintings Blaze Of Color, by Chris Hunter
1985
American Artists, A Survey of Leading American Contemporaries, Krantz
1984
Art Business News, November, page 58, & May 1985, page 65, quarter page color reproduction, New Editions: Review
1982
Corporate Design: the magazine of Facility Planning for Executives, Sept.-Oct., Original Print Collectors Group
1981
The Aspen Times, January 29, 1981, Ferre Gallery Shows New York Artists, Mary Martin
1981
The New York Times, Sunday, Ct., reproduction -Black Line on Yellow by Clifford Singer at the Aldrich Museum, February 15, Surrogates of Soho by John Caldwell
Art + Math = X, International Conference, University of Colorado, Boulder, June 2-5, 2005, Proceedings: Carla Farsi, Editor, Range Of Curvature, by Clifford Singer, pages 166-168
Mathematics & Design 2004, Fourth International Conference, Mar Del Plata, Argentina, June 7-12, 2004, Geometrical Art As An Applied Science, by Clifford Singer, pages 131-134
Abstracts of Papers Presented to the Mathematical Association of America, Boulder, MathFest, July 31-August 2,
2003, MAA Invited Addresses and Session Papers, Mathematics and the Visual Arts, Page 34, Geometrical Art As An
Applied Science, by Clifford Singer
the 31st InSEA World Congress 2002, NY, The Geometrical In Art, by Clifford Singer, Center for International Art Education (CIAE), Teachers College, Columbia University
QRM2000, 3rd International Conference, hosted by University of Oxford, England, co-sponsored by Institution of Mechanical Engineering, I Mech E, organized by Universities of England Consortium for International Activities, Visual Mathematics in Art, by Clifford Singer, March 31, 2000, Room: JCR
Bridges: Mathematical Connecitons in Art, Music, and Science, Southwestern College, Winfield, Kansas, July 30 - August 2, 1999
ISAMA 99, First Interdisciplinary Conference of The International Society of The Arts, Mathematics and Architecture, 7-11 June 1999, Universidad del Pais Vasco, San Sebastian, Spain in association with Department of Mathematics, University of Albany, State University of New York, U.S.A.
ArtSci98, Art & Science Collaboration, Inc. and The Cooper Union Adult Education Program, April 4, 1998, 2:00-3:00 P.M., Special Event: ASCI Members Show Work,
Clifford Singer, Slide presentation/cross section of art works 1972 to present with discussion
ASCI98, Art & Science Collaborations, Inc., Meeting with Presenters October 22, 1998, 8:P.M., at Stephen Soreff's loft space. Theme: Deep Space/
Presenter: Clifford Singer, Euclidean, Non-Euclidean, and Hyperbolic Geometry in Art
Art & Mathematics '98 Conference, Sibley Auditorium, U.of C. Berkeley, California, August 3 - 7, 1998
Lecture: Clifford Singer, Geometry & Color: Engineering a Visual Field, August 3
website: Clifford Singer, http://www.eecs.berkeley.edu/~sequin/AM98/program.html
website: http://http.cs.berkeley.edu/~sequin/AM98/index.html
Bridges: Mathematical Connections in Art, Music, an d Science, Southwestern College, Winfield, Kansas, July 27 - 30th, 1998
Abstract published in Conference Proceedings book, Reza Sarhangi, Editor
Lecture; Geometrical Poetry, July 30th, Beech Science Center
The Bridges Conference is partially supported by: The Eisenhower Professional Development Program; Kansas Board of Regents, and Phillips Chair Foundation, Department of Mathematics, Southwestern College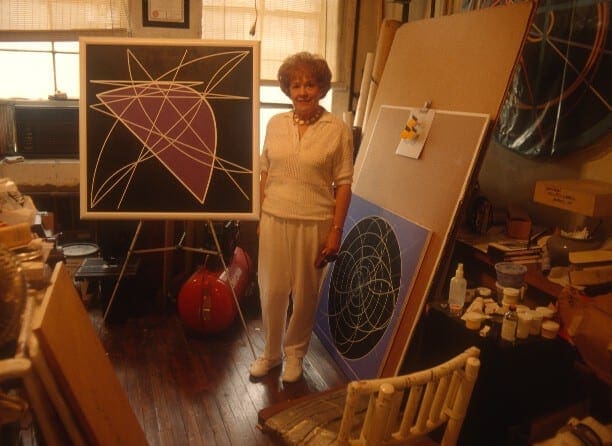 My mother: Natalie at New York Broome Street Loft in 1999
Clifford Singer
Clifford Singer holds a Bachelor of Fine Arts degree from Alfred University and a Masters of Fine Arts degree from The City College of New York, CUNY. He has both taught art and mathematics in addition to being licensed at the secondary level. He has worked in a variety of media and has had several solo exhibitions of his work. Mr. Singer spent twenty eight years in New York's Soho working and building his career. Earlier in life Mr. Singer was strongly influenced by his second cousin -- the late Mortimer Leach, Professor, Art Center School, Los Angeles and author, "Lettering For Advertising", 1956 who had had a significant impact and inspiration for him.
"In 1970, I knew that I should devote my life work to geometry in art. I have had an interest in geometric art that has led me through a progression of phases with my work beginning in 1972. Of course, I was quite young at the time but non-the-less Irene Rice Pereira's Oblique Progression at the Whitney Museum had a major influence for my work in 1968. Rudolf Arnheim's Entropy and Art was a great inspiration to me and in recent years I had had correspondence with Prof. Dr. Arnheim, where he had inscribed in my copy "To Clifford Singer and his inspired geometry - Rudolf Arnheim August 1999".
"The emphasis of the work has been within the range of purely geometrical thought and vision since about 1972-1973. Since my decision early on, to do geometric work, I found myself rooted in researching everything that I found to be mathematical in geometric measurability. These concerns brought me through studying Bauhaus exercises from teachers such as Kandinsky, Piet Mondrian, Michelle Seuphor, Max Bill, Andor Weininger, Naum Gabo and Josef Albers. In 1973 I saw an ad for Meibner Editions and mailed a request for a catalogue. Upon receiving Meibner's information, I was interested in the work of Karel Novosad, Max Bill, Francois Morellet, Ludwig Wilding, Attila Kovacs, and Verena Loewensberg. I was particularly fond of the linear work of Karel Novosad, Czech artist. From a post-colonial perspective of the world and art, I have recognized that as an American artist the variable levels of influence that shape an international and universal ideal for this art form is unquestionable."
"Prior to my university education, in 1968, I was introduced to B.H. Friedman where my aunt Claire Mozel worked as short hand dictation and typist secretary for Mr. Friedman's manuscripts. B.H. Friedman was author of Energy Made Visible (biography on Jackson Pollack) and Trustee of the Whitney Museum. I was immediately encouraged to pursue fine art as my mother was a talented artist who studies at University of Michigan, Ann Arbor, B.F.A. as well as at Columbia University with Larry Rivers and The Cooper Union with Hans Hoffmann. My mother informed me that Larry Rivers had won the $64,000 Question which added to his financial success. My father, Max Singer, a Breveted Marine Staff Sergeant, WWII, Pacific Theatre, and later was President, Amalgamated Meat Cutters Union of N.A. Upon my early graduation from Great Neck South Senior High School (January '73) I was accepted to the Pre-Med Program at The City College and also Alfred University's art program. I didn't want to become a doctor and chose art. I was accepted to Long Island University, C.W.Post campus for the Spring term of 73. While at C.W. Post I was invited to attend the senior class seminar chaired by Stephen Soreff which took me to Salvatore Romano and Billy Apple's studios in lower Manhattan. This was quite an awakening as I was 17 years old. During my university education, I found myself fortunate in be a student to students of Albers, David Smith and Al Held, that of Dan Davidson and Glenn Zweygardt while at Alfred University. Dan Davidson had introduced me to Nicholas Krushenick who I had known for many years following. Later on, upon moving to New York City in January of 1977, I studied in the Empire State Program, SUNY with George McClancy, Ph.D. where I have had the privilege of meeting many interesting people in the art community that included Irving Sandler, art critic, Marcia Tucker, Vito Acconci, William Conlon, Colette Lumiere, Paul Brach, Jud Nelson, Stephan Posen, Janet Fish, and Jennifer Bartlett.  While Colette was on exhibit at the Whitney Biennial in 1977, I was viewing a Richard Estes painting across from Colette and noticed Salvador Dali standing next to me.  I stated "hello Mr. Dali", "what do you think of the Richard Estes?" and he replied "the depth" with his arm extended outward.
While having coffee with Jud at the Broome Street Bar in 1977, Jack Tworkov walked by saying hello, as Jud Nelson was a prior student of Tworkov and Jud introduced me to Jack Tworkov. I was already quite familiar with Tworkov's chess moves paintings. I then started working on my M.A. degree at Hunter Graduate School in the Fall of 1977 where I studied with Robert Swain, Vincent Longo, Ralph Humphrey and Rosalind Krauss. At this same time frame, I met Frances Moro, art restorer, who explained to me in detail how he re-stretched large scale Barnett Newman paintings, and that Newman had Moro adjust the stretched canvas 1/8 inch to the left. This was to much difficult going to school at night, so I ventured out on my own professionally with my art. Robert Swain suggested that I contact Larry Aldrich of the Aldrich Museum at The Soho Center for Visual Artists. I dropped off slides with an artist's statement that Fall being broke and on unemployment, Larry Aldrich called me the next day wanting to visit my studio. He was convinced of my geometric paintings and then brought over Ivan Chermayeff of Chermayeff and Geismar who was the buyer for the Mobil Oil Corporation collection. This was January of 1980 and I had a $2500.00 sale. Finally, I applied to The City College, M.F.A. Program in 1988 after my exhibition at the Vasarely Center. I had to present my drawings to the Graduate Faculty, Jacob Rothenberg, Jay Milder, Al Loving, George Preston, amongst others. I was left to wait outside the conference room for about an hour while the Staff deliberated on whether I would be accepted. George Preston came out and shook my hand congratulating me, and stated that I was lucky to get in because it was a policy to not allow working professional artists into the M.F.A. Program.
In 1983, I was in Kovesdy Gallery in New York where I saw a drawing using the circle, square, and triangle. I enquired with the gallery owner, Paul Kovesdy, about the work and I was informed that the artist Andor Weininger was alive and living in New York. Andor Weininger visited my studio the next day viewing a 32-foot mural that I had just completed as a commission for the Mobil Oil headquarters in New York. Mr. Weininger had also read a paper that I had written at the time and remarked, "you will be one of the great ones. You should have your retrospective at the Guggenheim." Weininger throughout our meeting constantly complained that Kandinsky stole his stage designs while he was his student at the Bauhaus. Before leaving he suggested that I look up a German computer artist by the name of Manfred Mohr who was new to the neighborhood with his (rectilinear work), eventually a lesser student of mine. In 1984, upon renewal of my Artist Certification, Pursuant to the provisions of the New York City Zoning Resolution, Bess Myerson, Commissioner of Cultural Affairs, City of New York approved and signed my Artist Certification; after my original Artist Certification signed by Henry Geldzahler in 1980. In 1986, Denise Rene visited my studio [after written correspondence with her in Paris] viewing my Portals Series dealing with Reimannian space. Denise Rene with Wen-YingTsai invited me that evening to dinner at his old studio on Broadway, and Pol Bury who was also in New York at that time. I received a solo exhibition at the Vasarely Center in 1988 upon the recommendation from Richard Anuskiewicz to Emilio Steinberger, Director in 1987. The summer of 1991 was perhaps one of the most special times for me in my life. The Mostly Mozart Festival in Tokyo poster that I designed for Lincoln Center in 1991 was exhibited in New York and Tokyo simultaneously. As a teacher of art, mathematics, computers and UAPC Program Chairman for the Board of Education lead me to my post-doctoral work in philosophy and mathematics at CCNY, Graduate Center, matriculating for Ph.D. prior to 911. In addition, I have a Master of Fine Arts degree. From 1991 to the present I have been a licensed teacher of mathematics and art. I served 10 years with The City of New York as Program Chairman and Teacher. Currently, I teach mathematics for the Clark County School District in Nevada. During my visit to Paris in 1997 Michel Seuphor invited me to his studio. We traded a drawing for a drawing and I signed some of my printed matter in trade for an exhibition announcement of his. His exhibition announcement was for a retrospective exhibition to be held that August in Germany and he signed it to me "To Clifford Singer, That he may sing for a very long time Michel Seuphor." Michel Seuphor mentioned while looking at photographs of my artworks that Kandinsky would have liked my work. Early in 1998, I met Francois Morellet in New York after receiving an invitation to the reception of his exhibition of light sculpture. The next day Francois and his beautiful wife Danielle visited my studio and we had a brief but enriching conversation. The Morellets were on a speedy schedule and we had an enjoyable visit.
"Time and work since 1998 after my lecture at U. of C., Berkeley in the Art & Mathematics conference and at Oxford in 2000 has taken a special place. I have published papers and lectured on my artworks at Bridges Kansas, A&M 98 Berkeley, ISAMA 1999 Spain, and QRM Oxford. My production of many new paintings, publishing numerous papers on geometrical art and my theories on it is now continuing along with my teaching work. Whereby, in 1999, I received an invitation to participate in an international exhibition of abstract geometric art at the Mondriaanhaus 2000-2001 in Holland. For the Art & Mathematics 2000 exhibition at The Cooper Union in New York I was Curator and Editor. Ivars Peterson wrote an article for FOCUS, December 2000 on Art & Mathematics 2000 and featured my painting entitled Quartic on the front cover. I published a recent paper with Mathematics and Design in Argentina entitled, Geometrical Art as an Applied Science. Recent paintings in progress are from my series of drawings and paintings entitled, Cut Space Series." Since relocation to Las Vegas after 9/11 Mr. Singer has been working from newly created pieces – first as drawings and gradually developing them into paintings and prints. Mr. Singer's work has been widely exhibited and in recent years can be found online represented by the American Mathematical Association and the Mathematical Association of America. Through these organizations the Exhibitions of Mathematical Art have been presented by the Joint Mathematics Meetings held in January of each year and provided a webpage with inclusion in a printed catalogue. Mr. Singer has recently exhibited with his first solo exhibition since 2000 at The Foley Federal Building, GSA, Las Vegas, Nevada October to December 2010, Whitney Library Gallery, Las Vegas, 2013. Clifford Singer was administered a Comprehensive Cognitive Analysis Test and has a General Intelligence Quotient of 138.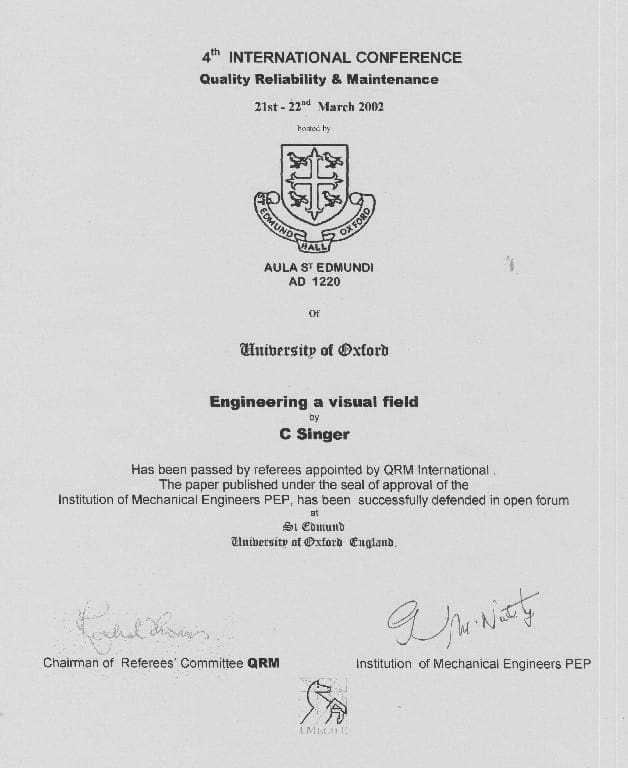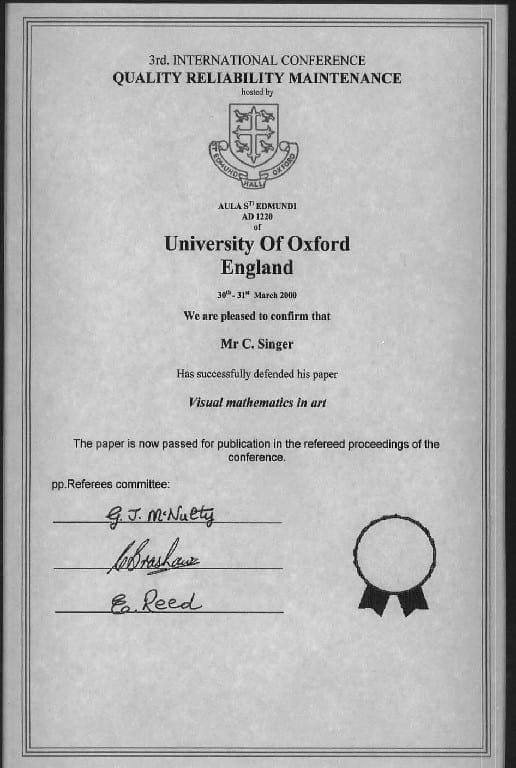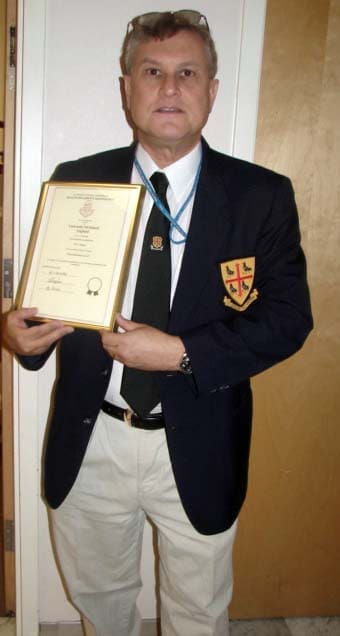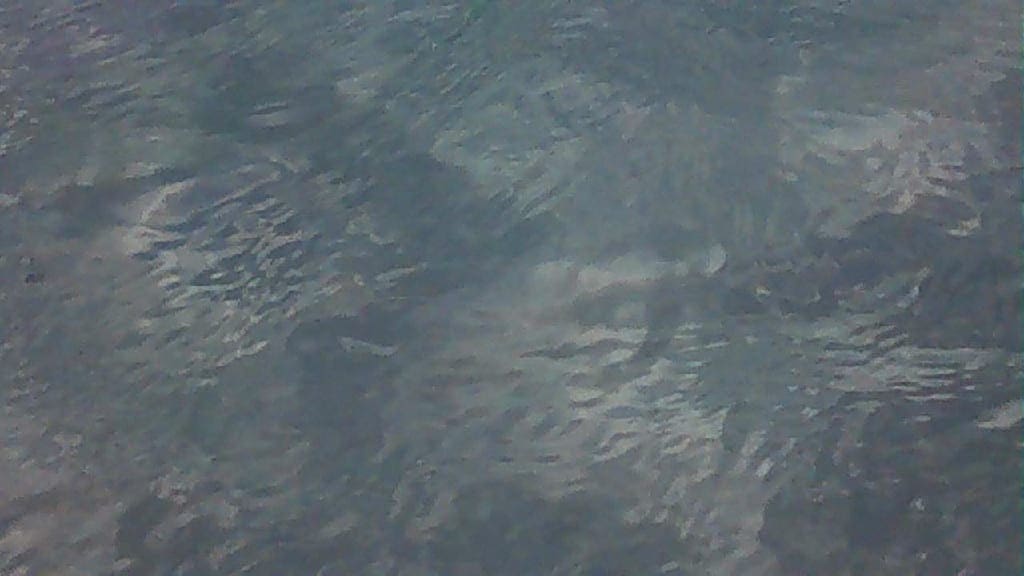 Clifford Singer, Cyclical Oceanic Waves Series, No. 141 ©, 2012
(a mathematical perspective), Photographs: 1992 - 2012
This series of oceanic waves represented in my photographs along with the mathematical dynamics developed in the Euler equations, Hamiltonian partial differential equations, stationary ergodic processes represent the variable bottom and nonlinear boundary conditions on the free surface. There is a goal of asymptotic description of waves over a bottom, in the long wave limit. Lemma, a recurring theme in my work since 1983 represents that orbits are uniformally bounded. Notice in the random characteristic coordinates the irregularity in the scattered wavefield in derivatives from Brownian motion. Oceanic waves move by the exchange of energy in cyclic movement through the medium of water which does not travel. Wave motion is not water flow, but the flow of energy made visible.
Clifford Singer © 2012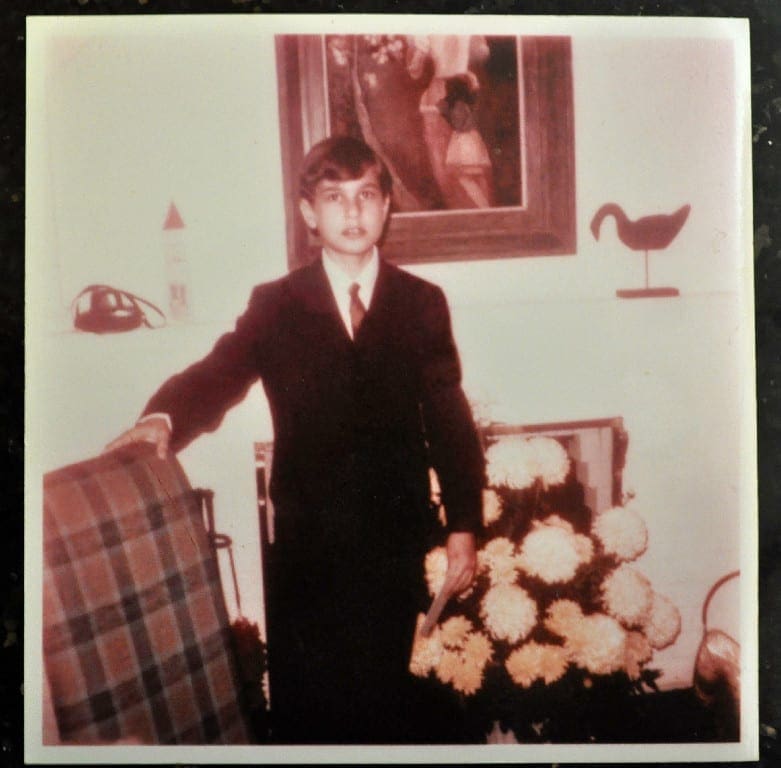 Clifford Singer, 1968©, photo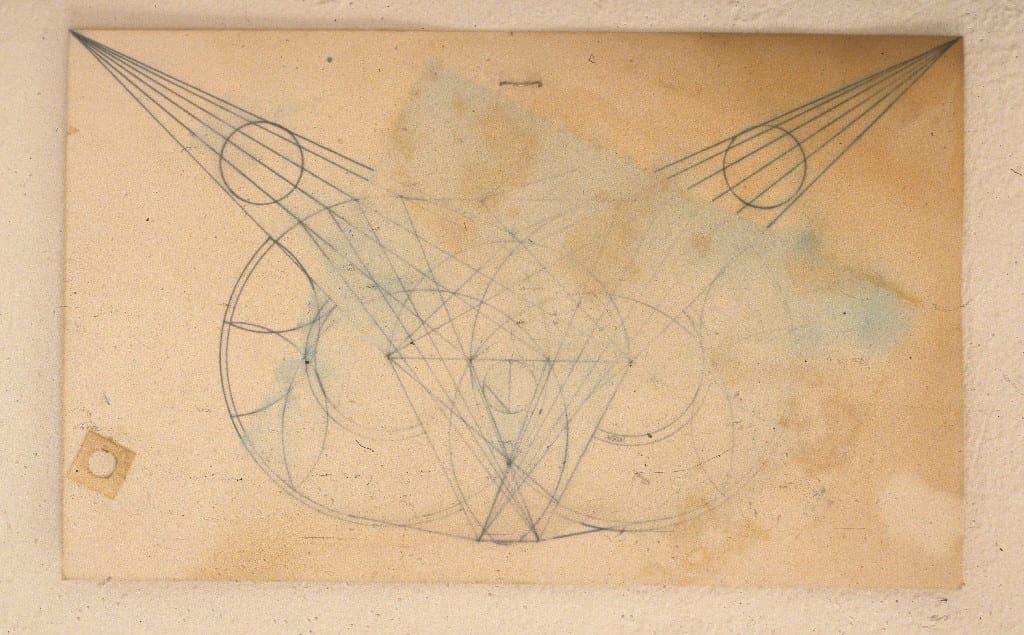 Clifford Singer, first geometric drawing, pen on oak tag 1967 ©
Collection of the Artist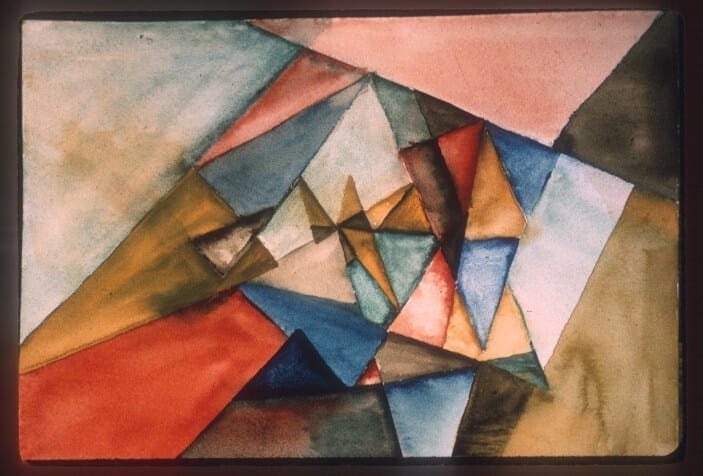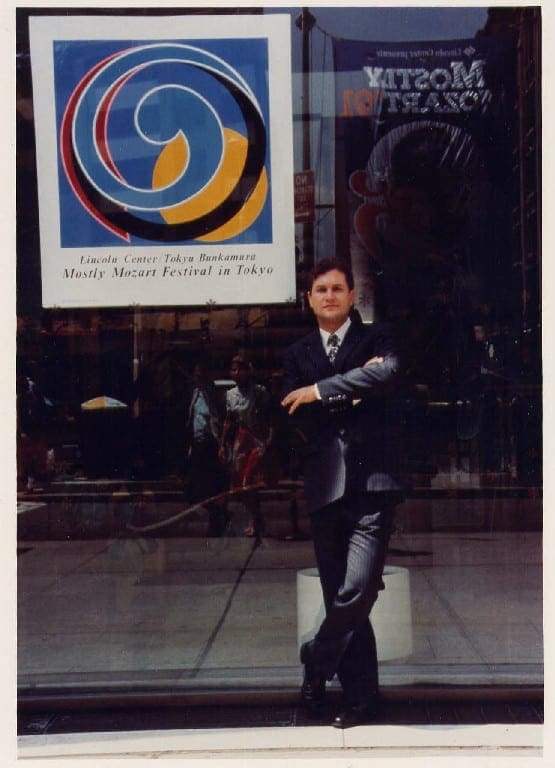 Clifford Singer © at Lincoln Center 1991 in front of Mostly Mozart Festival in Tokyo
Photo: Courtesy Helene Weitzner
Clifford Singer, Geometric Composition, watercolor on heavy rag paper, 18 x 24 inches, 1971 ©
Collection of the Artist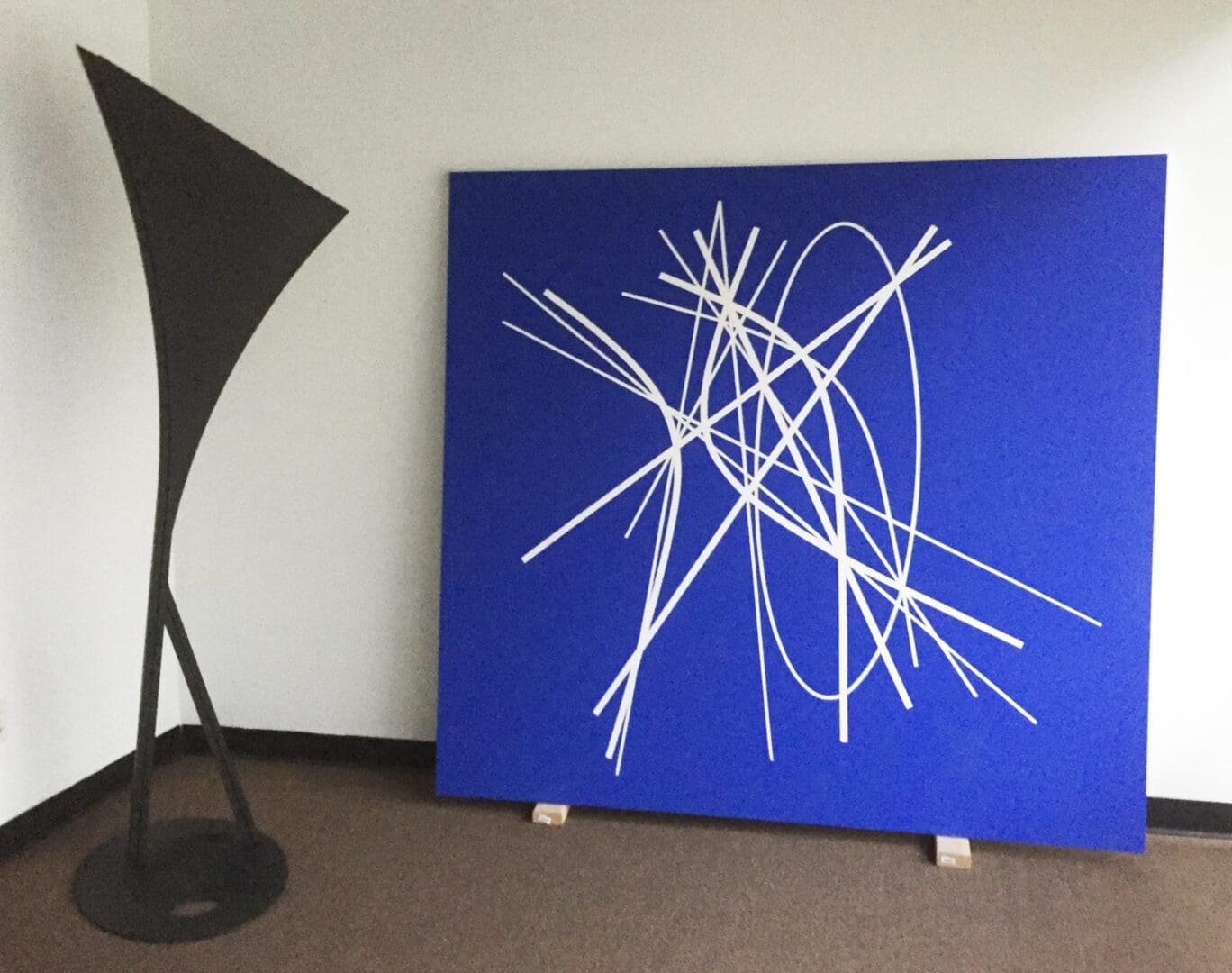 Clifford Singer © 2018, left, Black Sail, right, after Kandinsky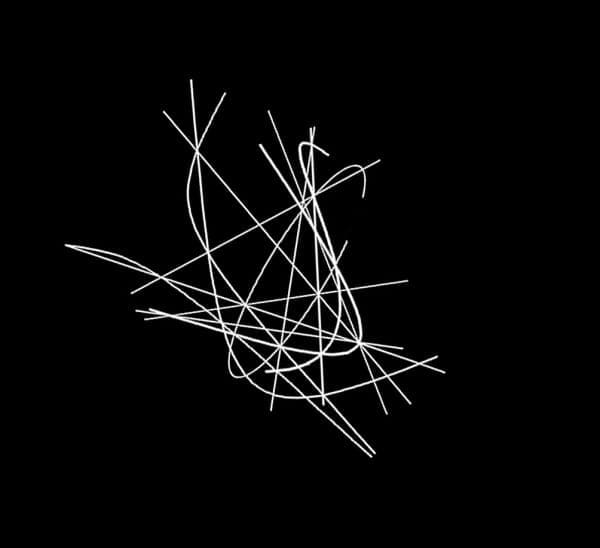 "Osculating Ellipse at a Point on Space Curve"
45 x 45 cm
Ink on Vinyl
2018 ©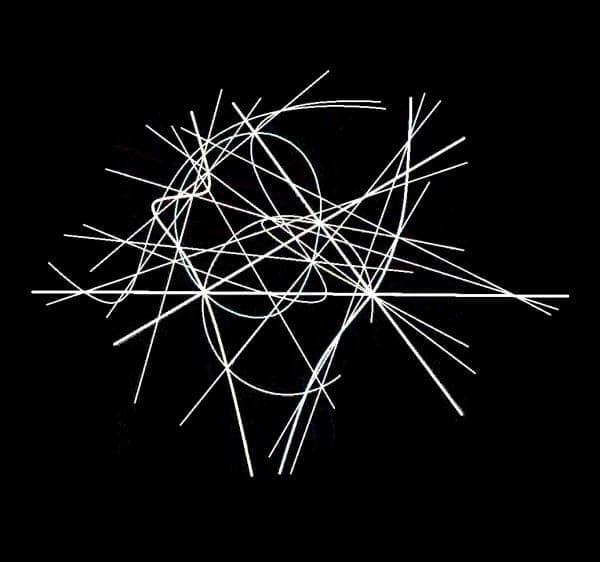 Event Horizon Line
45 x 45 cm
Printed ink on vinyl
2017 ©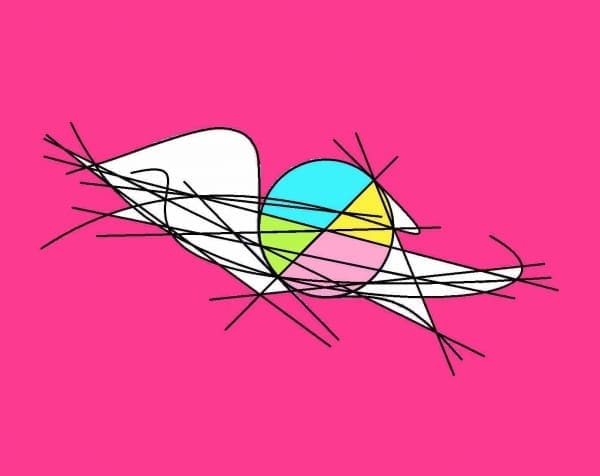 'Dynamics for Osculating Circle'
40 x 50 cm
Ink on Vinyl
2017 © ™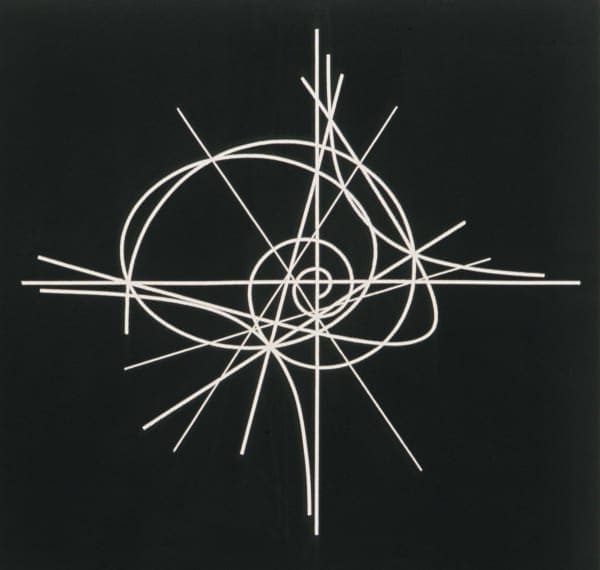 Conchiform
60 x 60 cm
Ink on Vinyl
2016 ©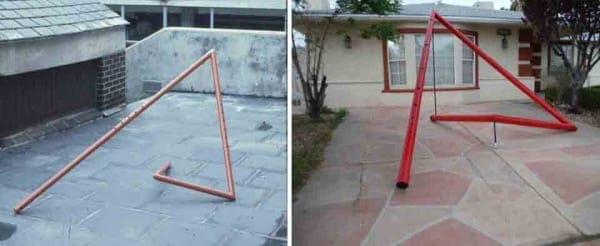 LINE
40 x 60 cm
Sculptures represented as a Photographic Print on Vinyl
1975 - 2016 ©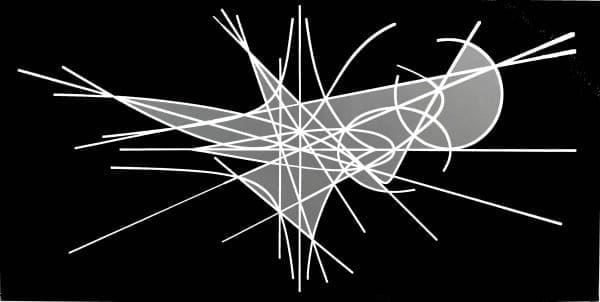 Tractrix Inverse with Circle
30 x 60 cm
Digital Print on Vinyl
2015 ©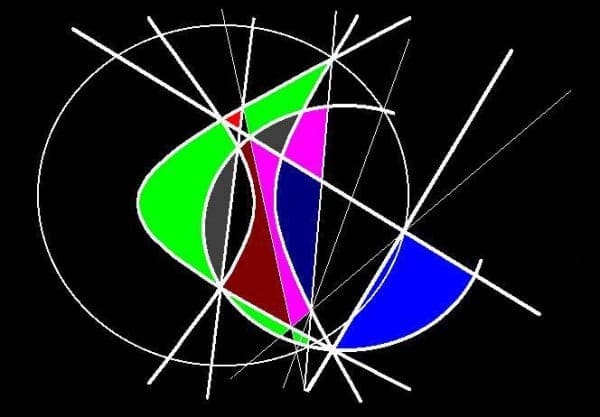 Cut Space Series Composition # 4
16 x 20 inches
digital print on vinyl
2014 ©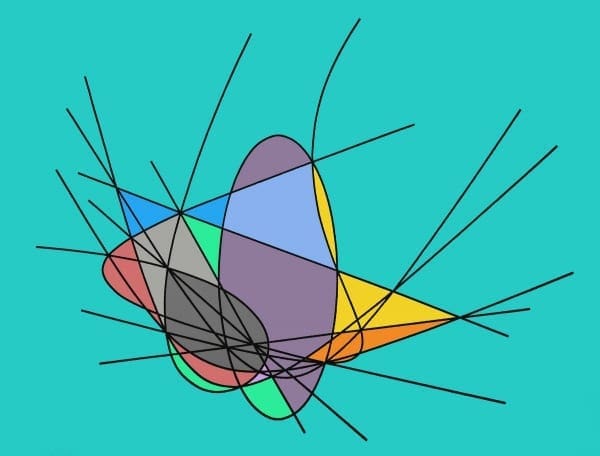 Cut Space Series Composition # 40 ©
36 x 48 inches
Acrylic on Plexiglas
2013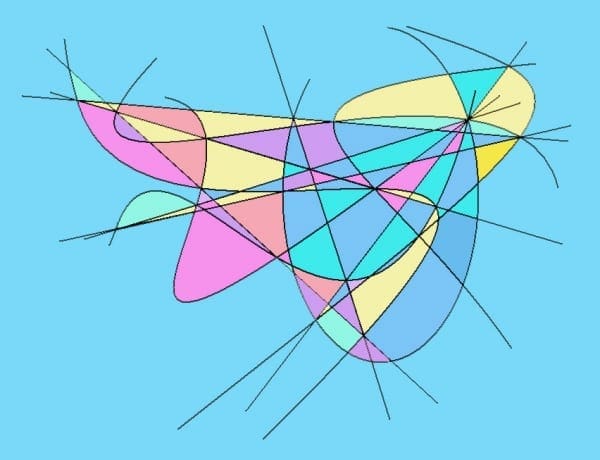 Cut Space Series Composition # 79 ©
16 x 20 inches; original painting 36 x 48 inches
Digital Print on Vinyl, Replica of Painting on Plexiglas
2012 ©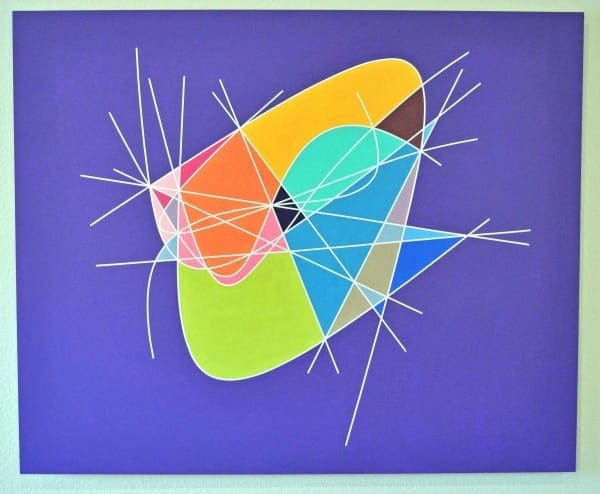 Clifford Singer, Cut Space Composition # 32
36 x 44 inches
Acrylic on plexiglas
2002 - 2011 ©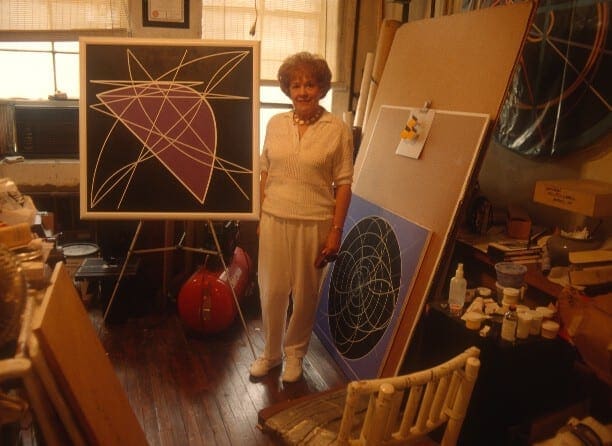 Clifford Singer
My mother: Natalie at New York Broome
Street Loft in 1999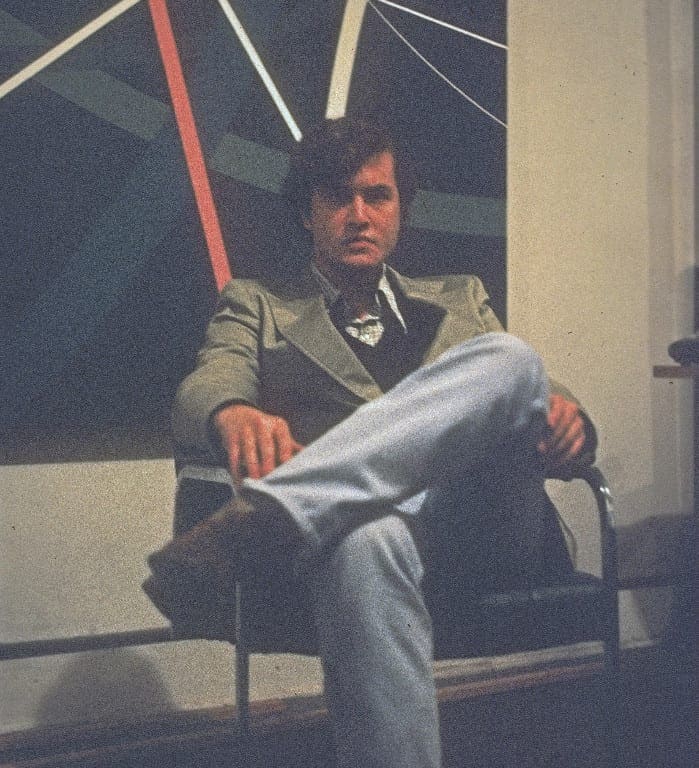 Clifford Singer, at his Soho Loft, New York, 1981©
Photo: Courtesy Rebecca Smith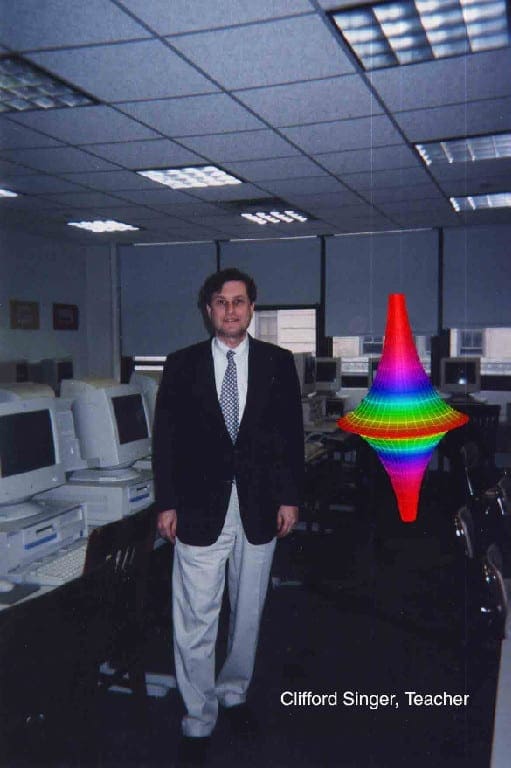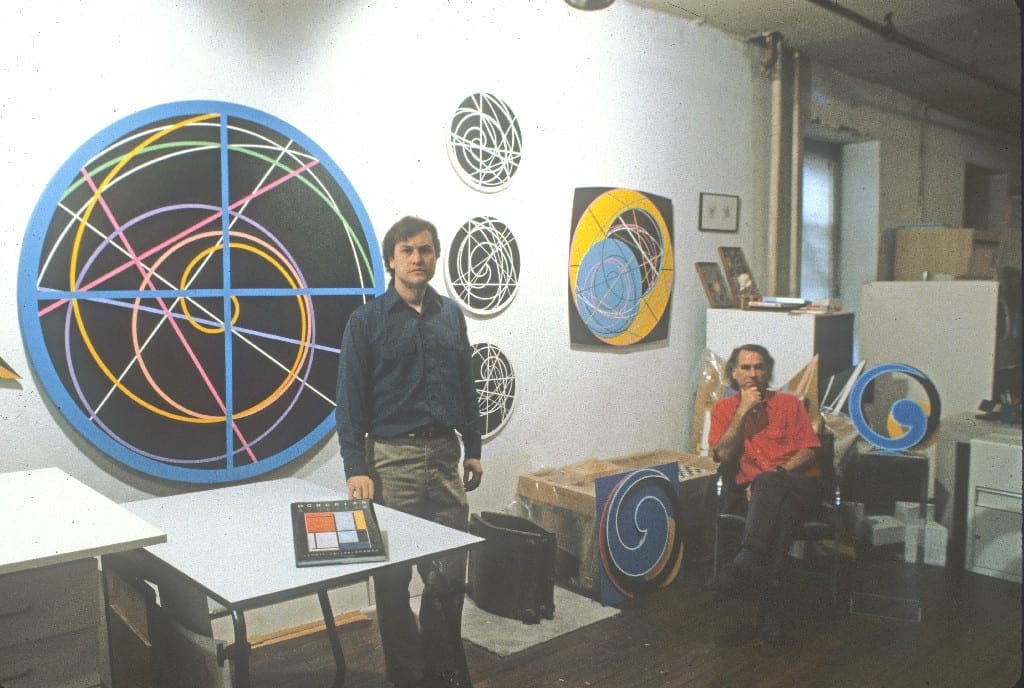 Clifford Singer at his Soho Loft, New York, Dec. 1989©, with computer artist Manfred Mohr (right), Photo: Clifford Singer, 1989© (8 sec. delay)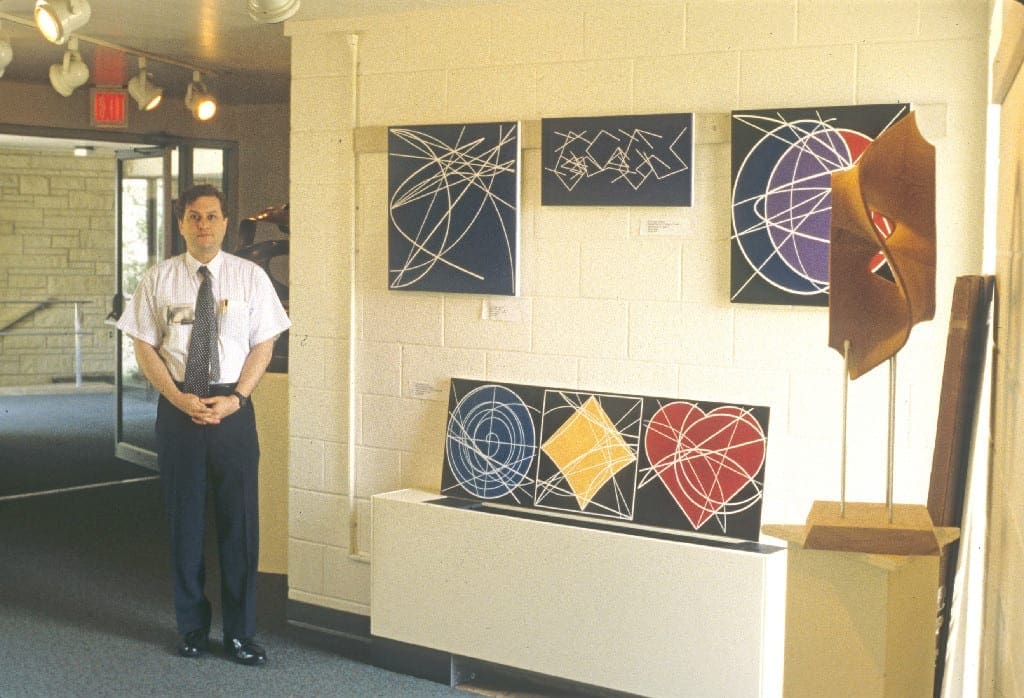 Clifford Singer, at Bridges Conference: Mathematical Connections in Art, Music & Science
1998©, Photo: Courtesy Nat Friedman, Professor Emeritus, Mathematics, SUNY, Albany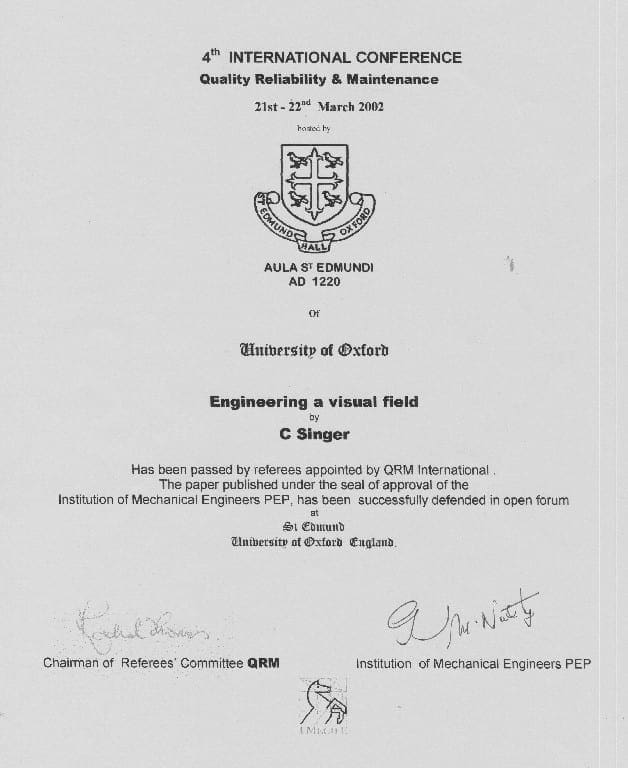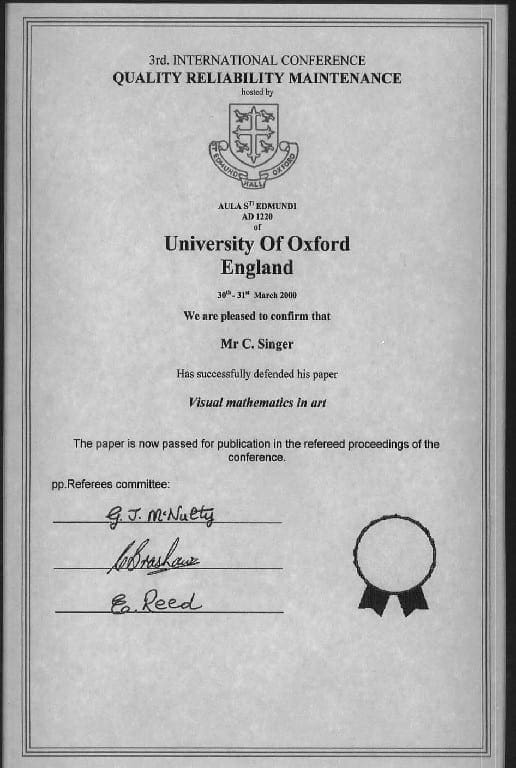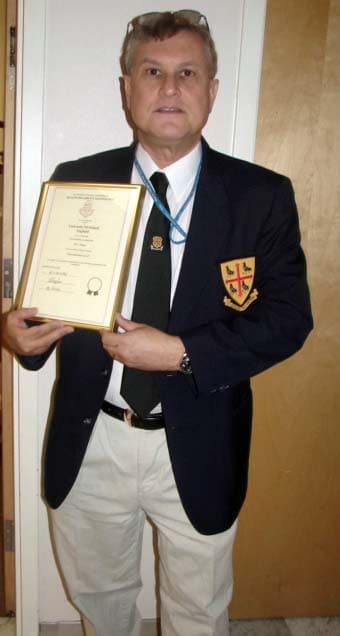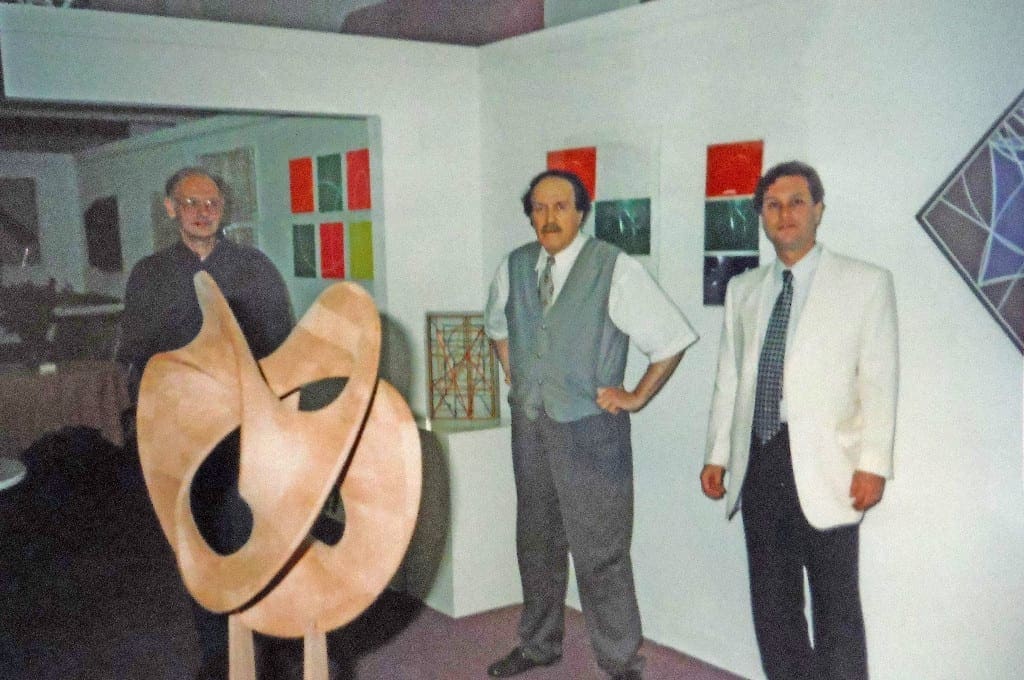 Cercle et Carre, Vallejo, California, 1998 ©
left, Brent Collins, center, T. Michael Stephens, right, Clifford Singer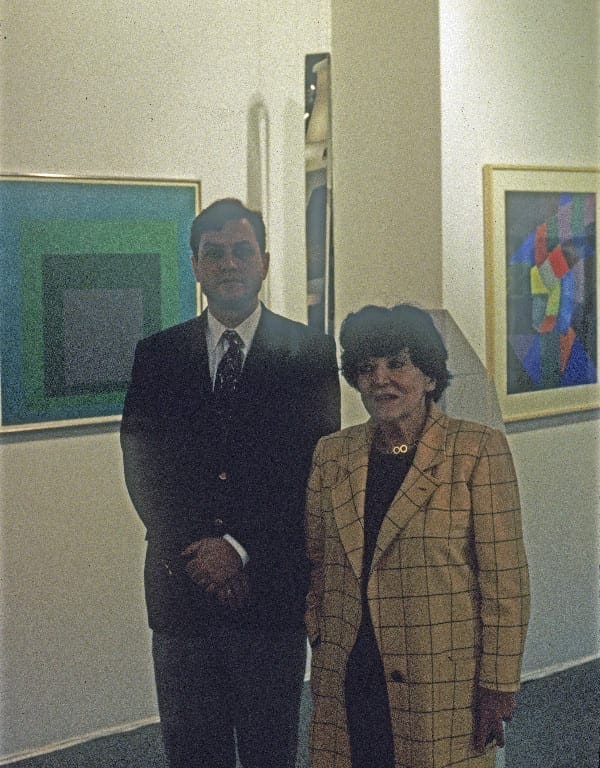 left, Clifford Singer, right, Denise Rene, Galerie Denise Rene, 1995 ©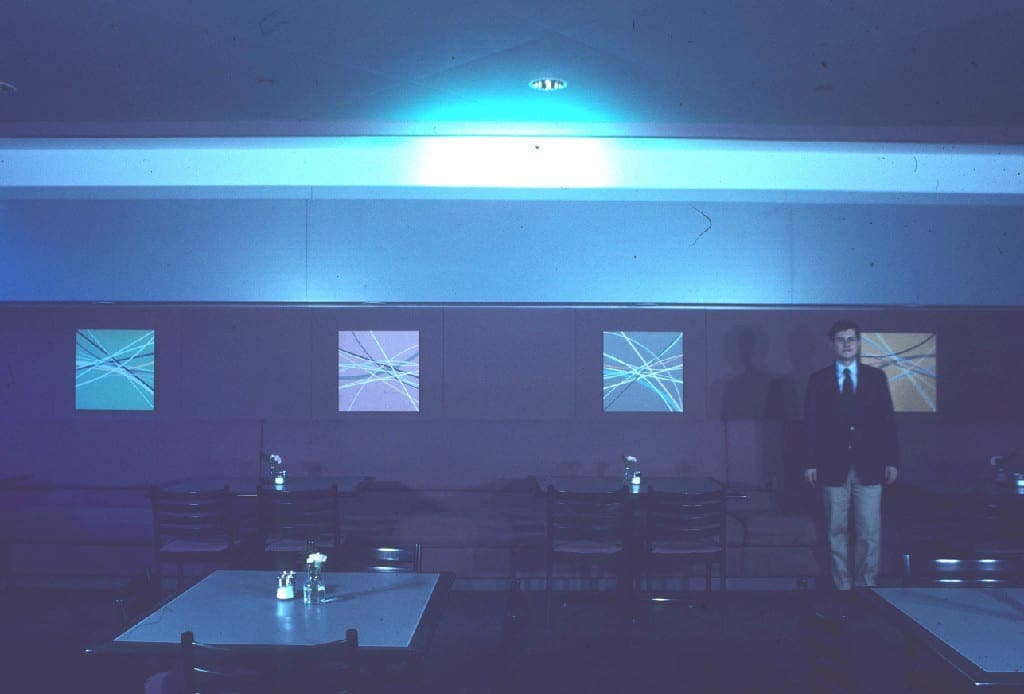 Clifford Singer, Didecameter Suite, 1985©, Acrylic on plexiglas, AT&T, Atel I Headquarters, Atlanta, GA, Photo: Clifford Singer © 1985 (8 sec delay photo)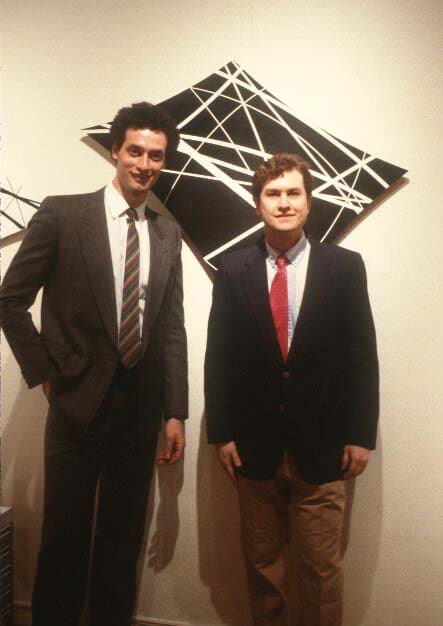 Left, Emilio Steinberger, Director, Vasarely Center; Right, Clifford Singer