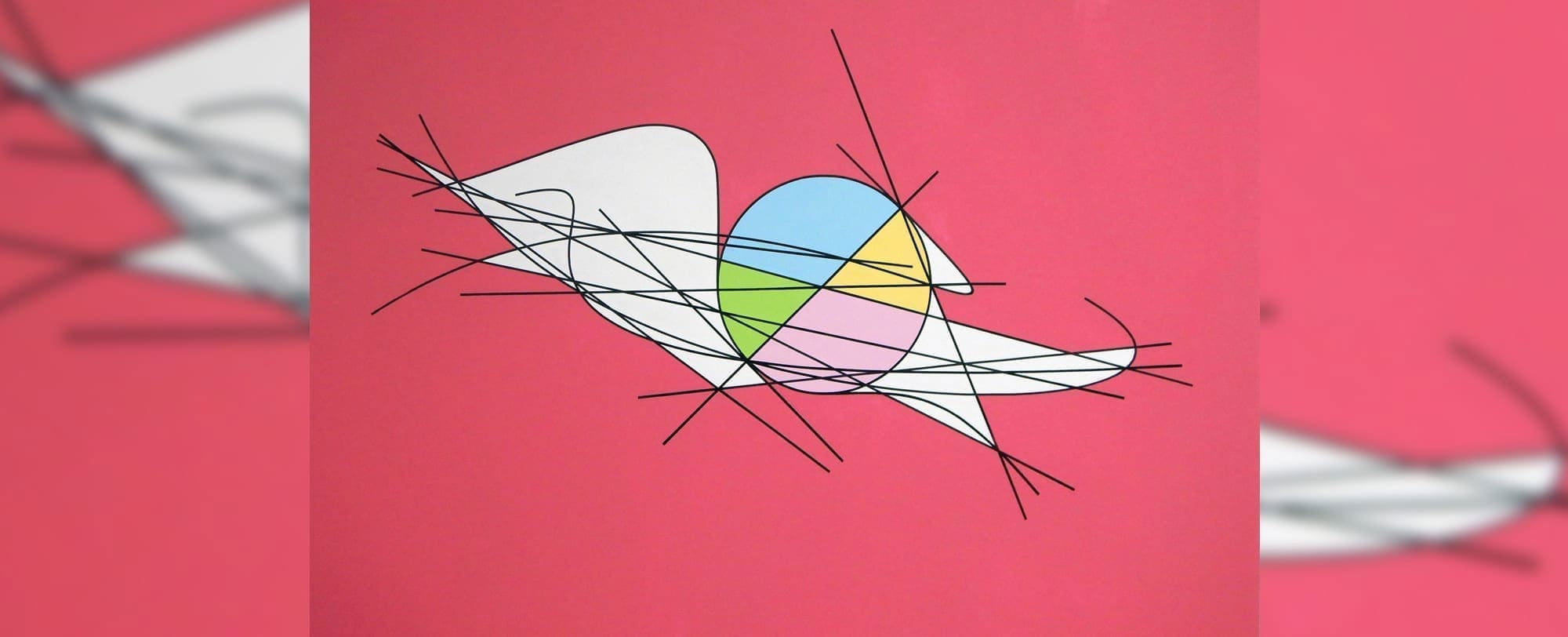 CLIFFORD SINGER ©, 2018, DYNAMICS FOR OSCULATING CIRCLE, ACRYLIC ON CANVAS, 72 X 93 INCHES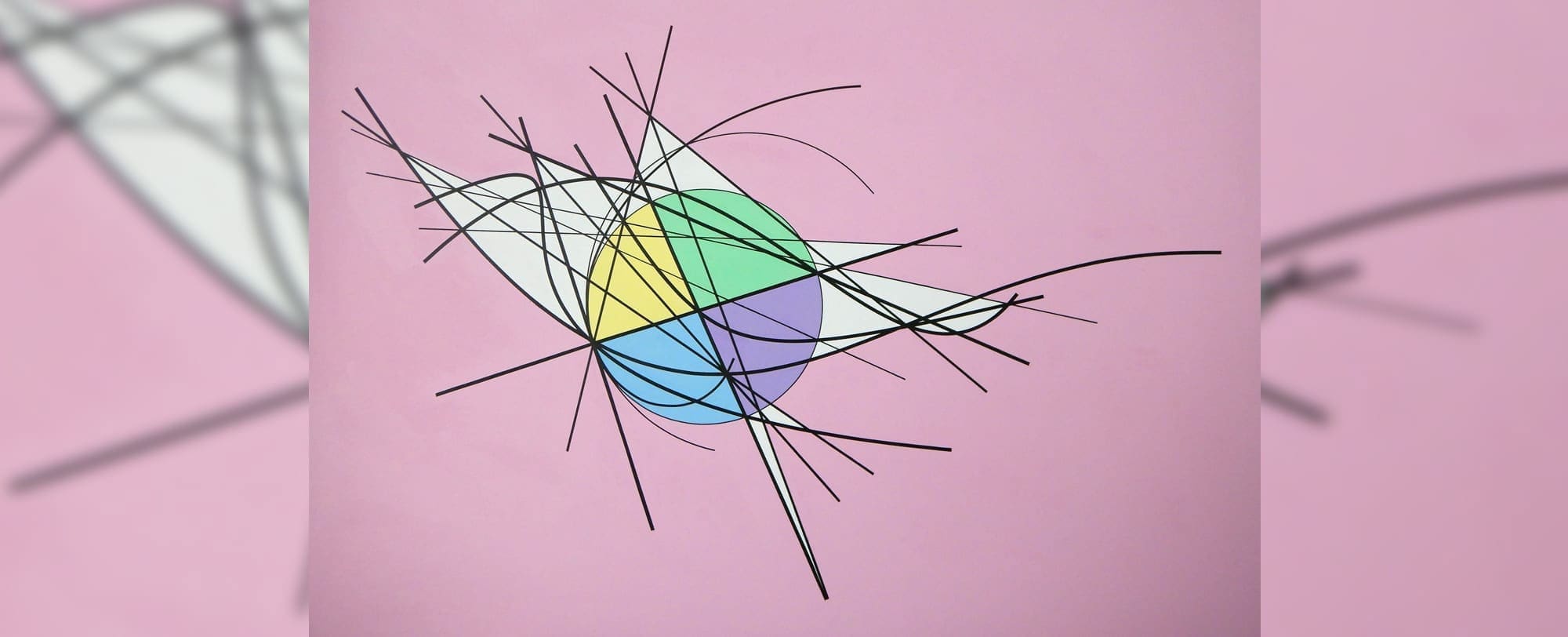 CLIFFORD SINGER ©, 2018, ACRYLIC ON CANVAS, 72 X 100 INCHES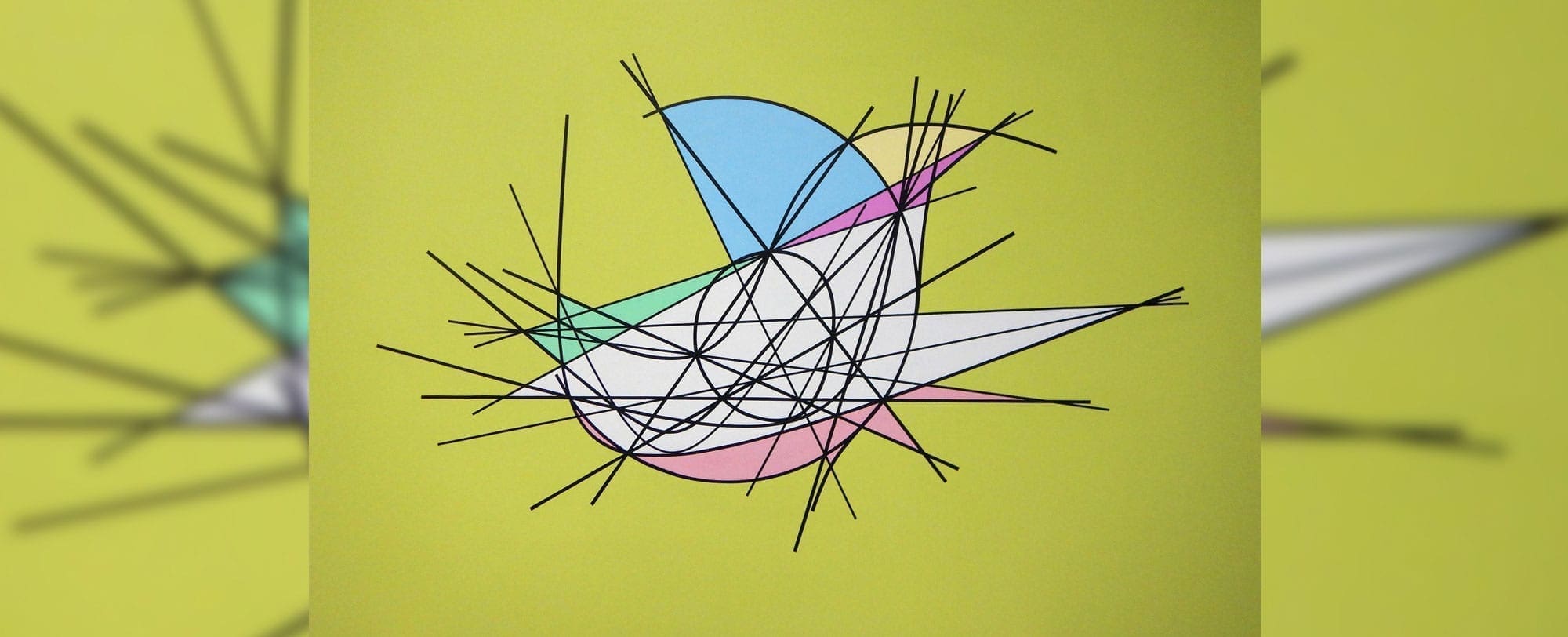 CLIFFORD SINGER ©, 2018, OSCULATING CIRCLE WITH NEUBERG CURVE, ACRYLIC ON CANVAS, 72 X 104 INCHES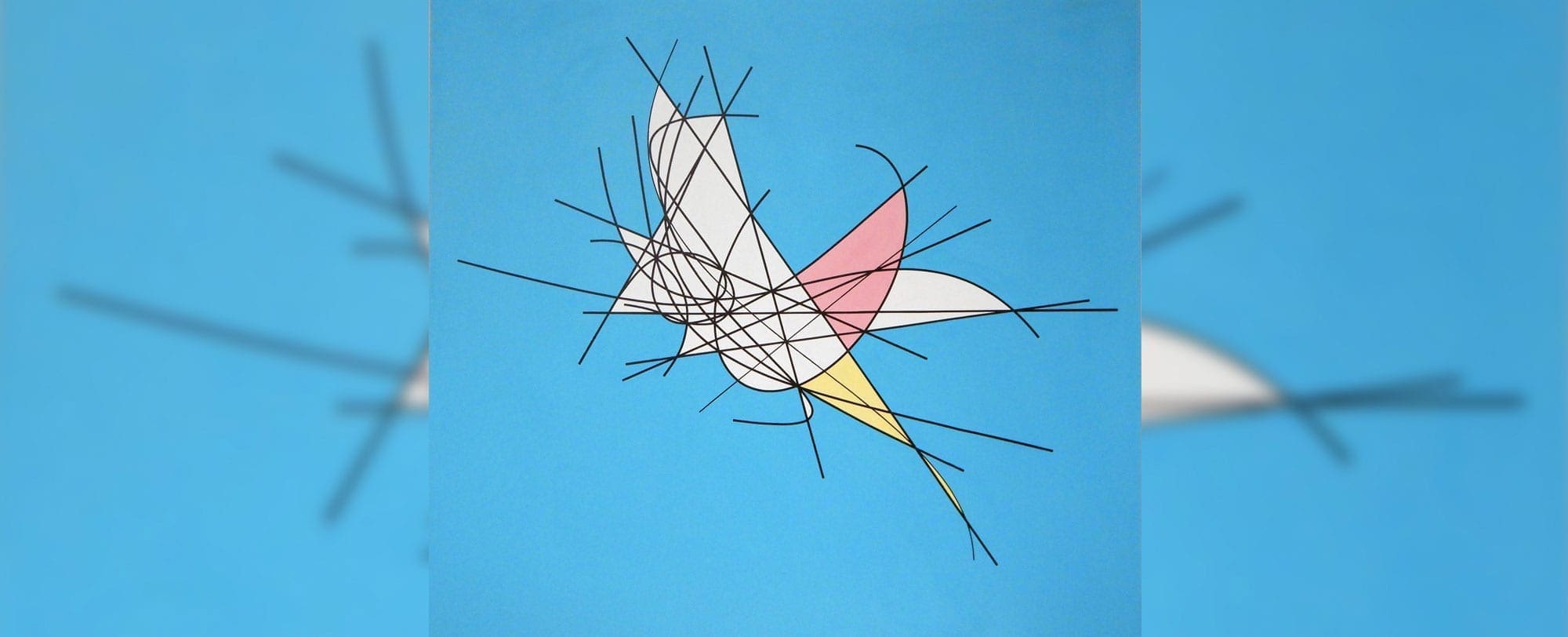 CLIFFORD SINGER ©, 2018, OSCULATING ELLIPSE, ACRYLIC ON CANVAS, 72 x 79 INCHES
Clifford Singer, Modern Master of Geometrical Art, & Polymath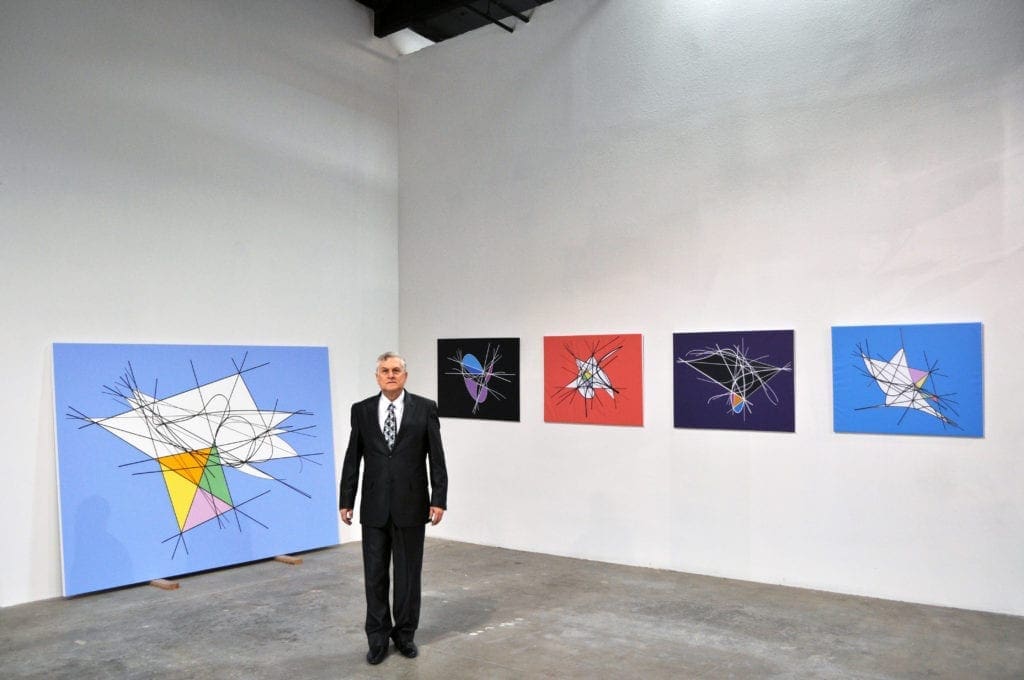 CLIFFORD SINGER, INSTALLATION FOR EXHIBITION, THE GEOMETRY OF THE BAUHAUS, 2019 © 
PHOTOGRAPH: CLIFFORD SINGER (10) SEC. DELAY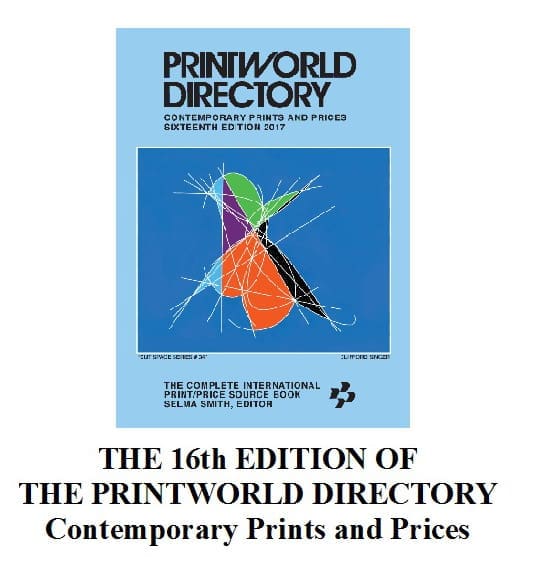 CLIFFORD SINGER ™,
Cut Space Series, Composition # 34, front cover
"In that I have selected a variety of mathematical / geometric concepts as the basis for the work, it is my intent to form a complex integration by graphing a reflection with collinear intersections and intersects on diagonal plotting. Cut Space Series represents mathematical concepts by use of line, a priori the primary mathematics to formalize a geometric construction. The geometric construction procedures are basically algorithmic. The collinear intersects demonstrate both mathematical and visual truths in the geometric pictorial field." Clifford Singer © ™ 2016
written archives of Clifford Singer, author
All Rights Reserved. Clifford Singer © ™ . Digital copying of these images and content strictly prohibited; violators will be subject to the law including the Digital Millennium Copyright Act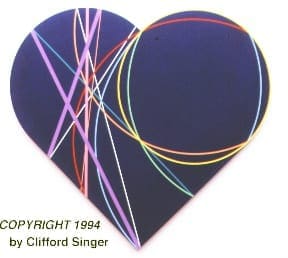 CLIFFORD SINGER, THE GEOMETRY OF THE HEART, 1992-1994©,
acrylic on hand cut Plexiglas, 48.5 x 53 inches
Exhibited on COMPUSERVE, FINE ARTS FORUM (online exhibition) 1994, published in - NETGUIDE MAGAZINE,  prior to Jeff Koons' Heart sculpture and after Jim Dine's Heart paintings. Richard Solomon at Pace Editions, stated, "stay away from the Heart" after he viewed my Compuserve exhibition.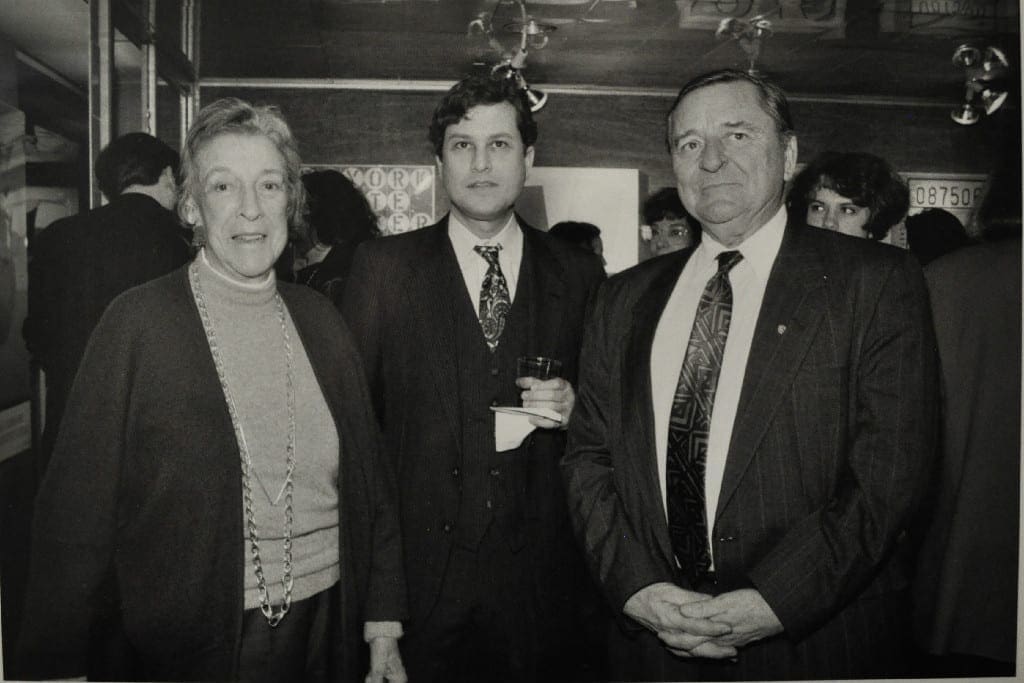 30th Anniversary Celebration of Lincoln Center/ List Art Poster Collection, 1993 ©
left, Vera List, center, Clifford Singer, right, Delmar Hendricks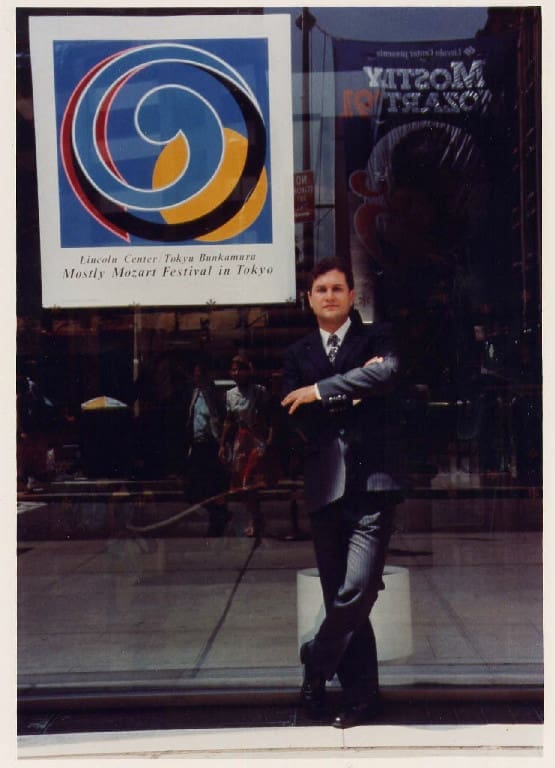 Clifford Singer © at Lincoln Center 1991
Mostly Mozart Festival in Tokyo
Photo: Courtesy Helene Weitzner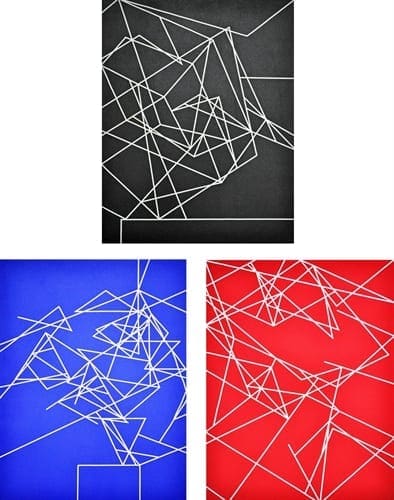 Clifford Singer, Hyper Cube paintings, 1978 ©; on Artnet.com April 21, 2014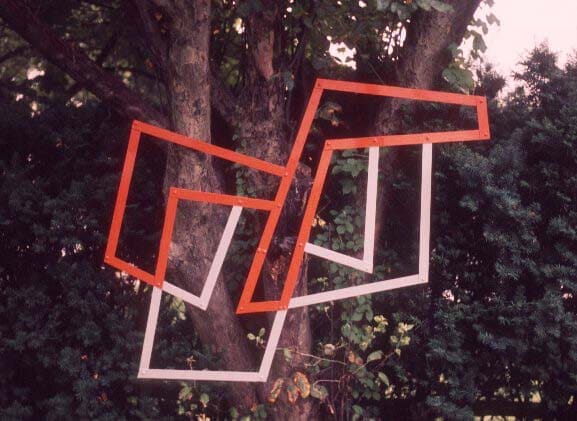 Clifford Singer, Laws of Form, 1973©, cut steel, bolts, sand, enamel, approx. 48 x 60 inches
Influenced by G. Spencer Brown's book, Laws of Form, published 1969.
Photograph: Clifford Singer, New York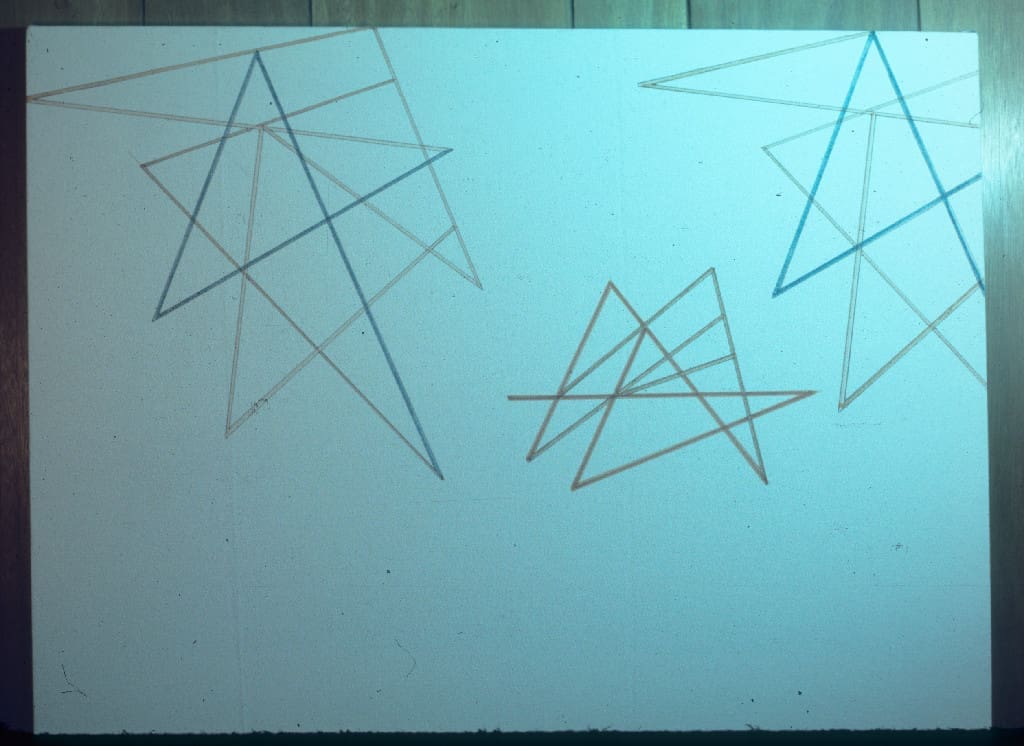 Clifford Singer, Geometrical Birds, 1975©, Ink on raw canvas, 36 x 40 inches
Photograph: Clifford Singer ©, New York 1975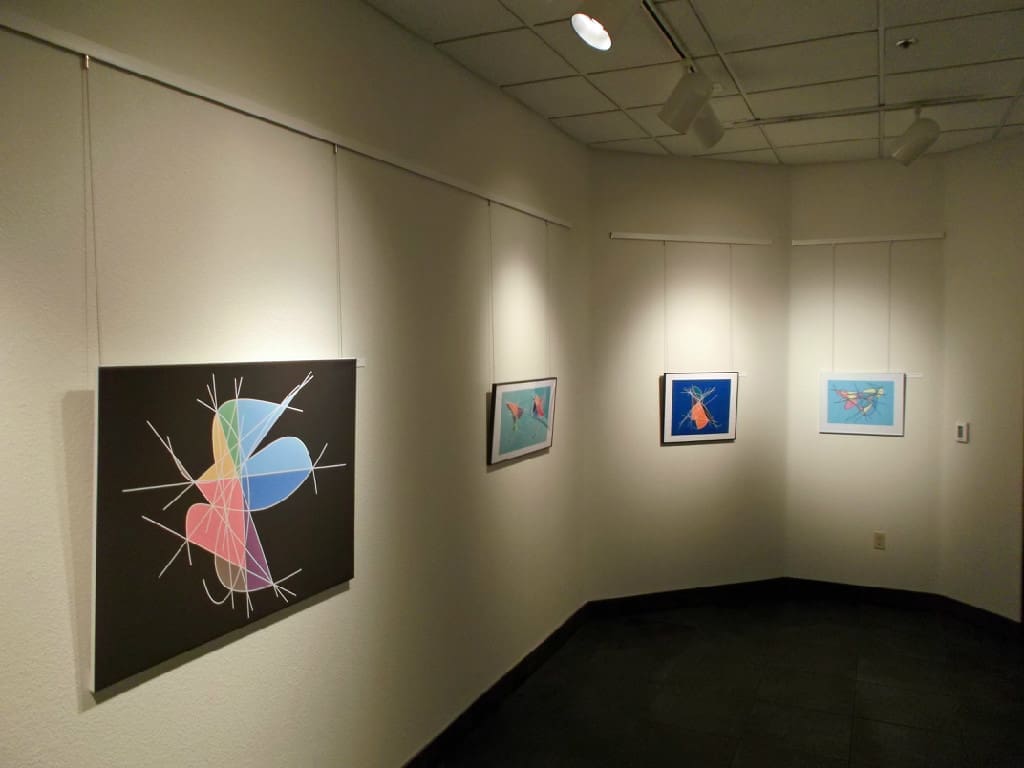 CLIFFORD SINGER
ENTERPRISE ART GALLERY
25 EAST SHELBOURNE AVENUE
LAS VEGAS, NEVADA 89123
AUGUST 15 - OCT 15, 2013
M-TH 10-7, F-SUN 10-6
SPONSORED: LAS VEGAS CLARK COUNTY LIBRARY DISTRICT
CURATED BY: DENISE ALVARADO, GALLERY DIRECTOR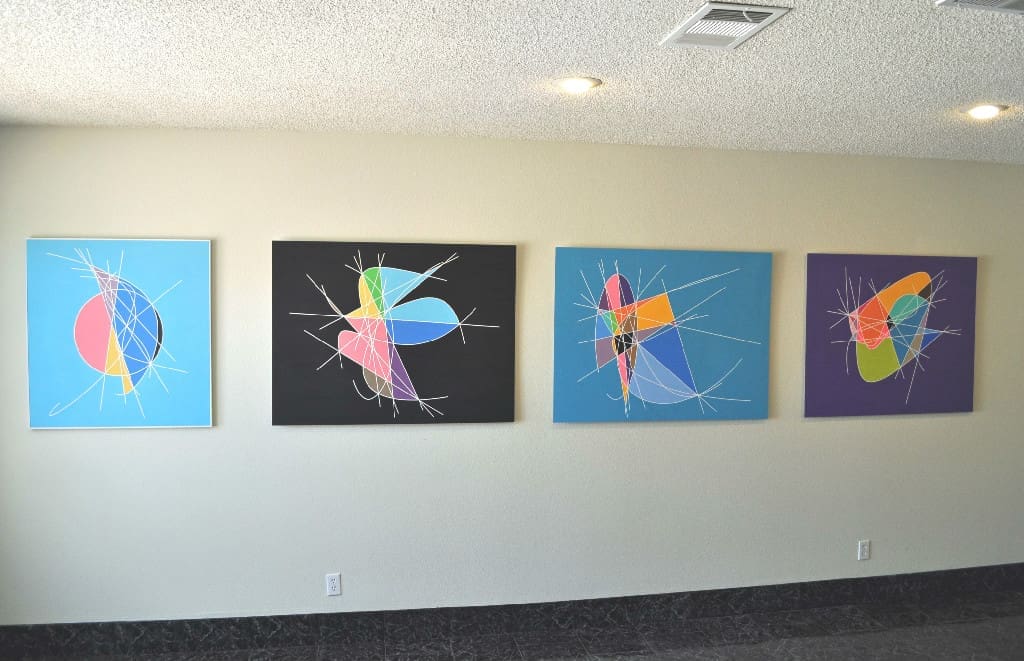 Clifford Singer, Las Vegas, art studio installation photograph ©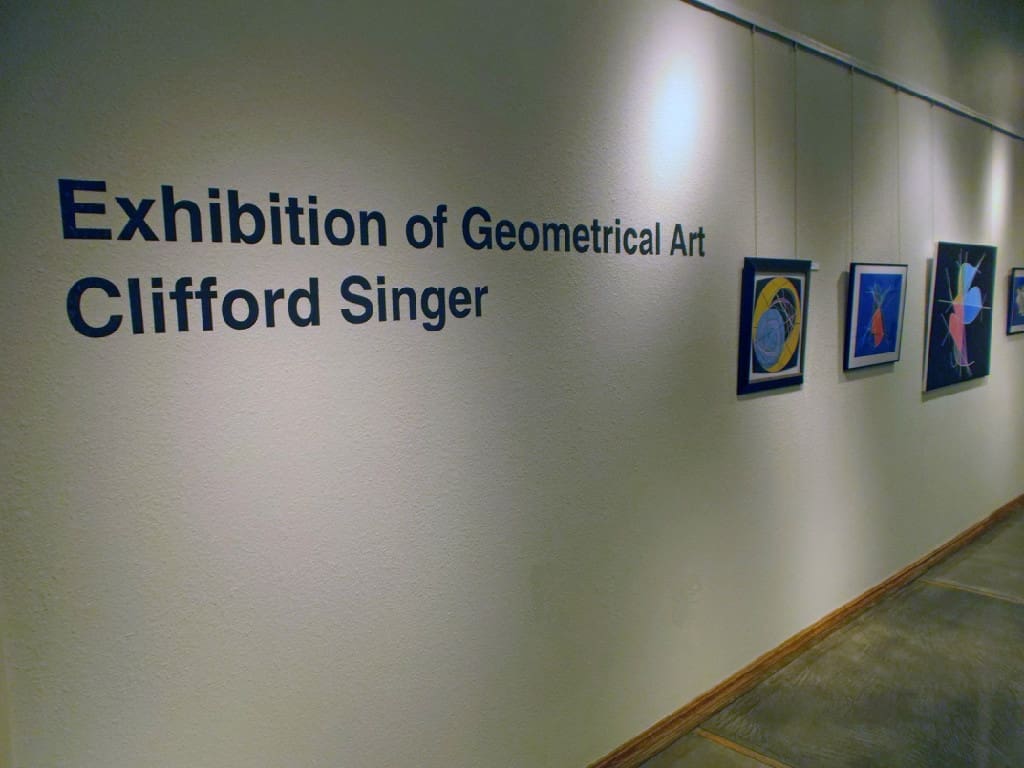 CLIFFORD SINGER WHITNEY LIBRARY ART GALLERY MAY 23 - JULY 16, 2013 5175 E. TROPICANA AVENUE LAS VEGAS, NEVADA 89122
SPONSORED: LAS VEGAS CLARK COUNTY LIBRARY DISTRICT
CURATED BY: DENISE ALVARADO, GALLERY DIRECTOR
"In the progress of this paper I have interspersed some reflections that we can collect into a general point of view on my art works. While the geometric style in the broadest sense can be classified in the art world as 'geometric abstraction', what actually takes place on the picture plane between form, space and color goes far beyond the limitations of such arbitrary labels. The work evokes ceaseless mobility, speed, time, space, growth, compression, tension, attraction, and the infinite nature of pure mathematical elements.
In the painting I suggest the dynamics of a space that continually expands the structure and geometrical fragmentation in space-time. Line segments in the universe are interconnected, even when they appear to be separate from one another. In space-time curvature the geometrical signing through collinearity illustrates a deformation of space."
by Clifford Singer ™ ©
written archives of Clifford Singer, author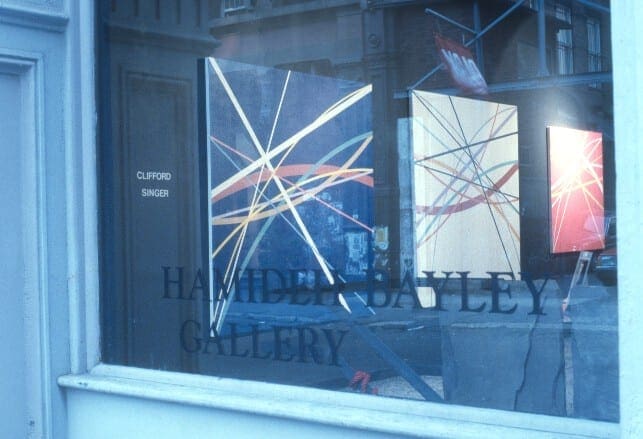 Clifford Singer, solo exhibition, Hamideh Bayley Gallery,
New York, Soho
May 1987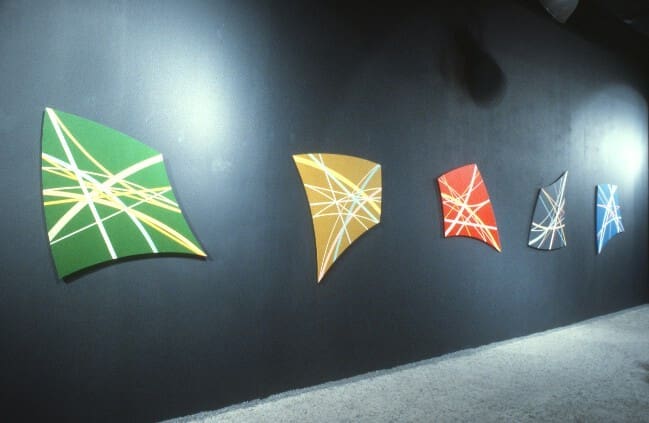 Clifford Singer, Portals Series, 1986, acrylic on wood,
exhibition at: Hamideh Bayley Gallery, New York, Soho
May 1987
Clifford Singer, 2020 © All Copyrights Reserved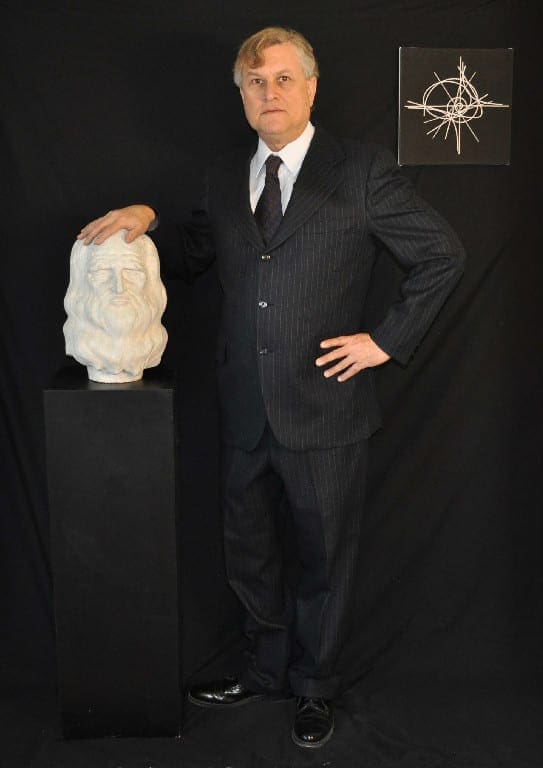 Clifford Singer Contemplating a Bust of
Leonardo da Vinci, © 2012
Photograph: Flo Singer © 2012
Clifford Singer, Retrospective Exhibition
Lloyd D. George Federal Building, GSA
Las Vegas, Nevada
November 1 - December 15, 2011
Artworks 1973-2011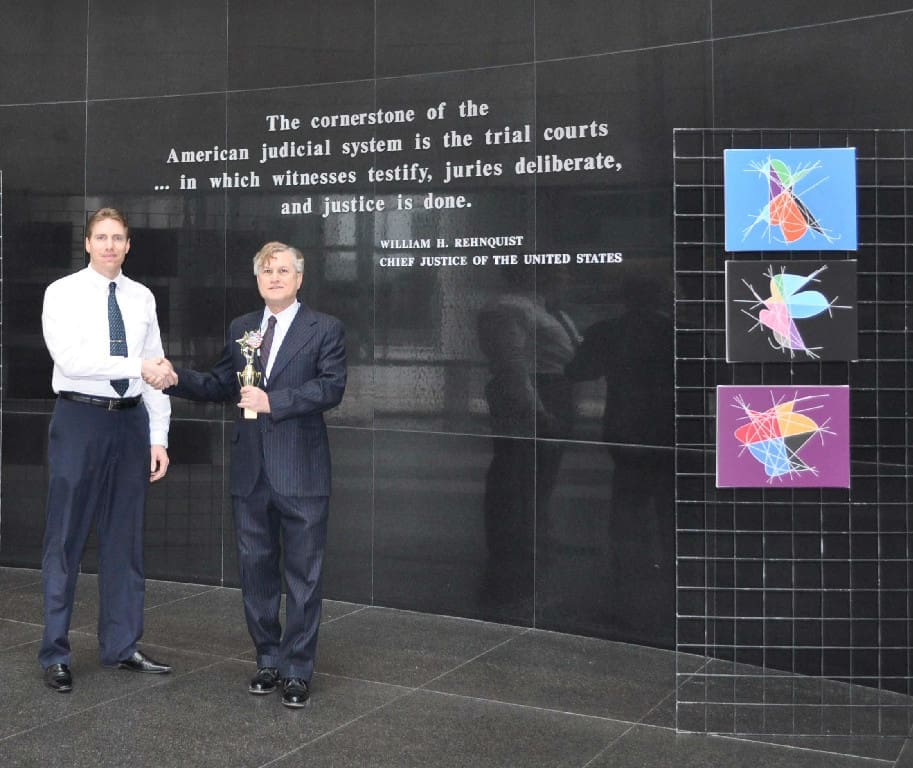 Clifford Singer receives Trophy Award from Michael Zadina
Photographs: Flo Singer ©2011
Clifford Singer, Geometrical Clouds Series, © 1974-2020
"Geometrical Clouds is a continual paradox of geometry or anomaly – derivative from regular arrangement, general rule or usual method of thinking that I had delved into during the 1970s in working with hyper spatial geometry in n-dimensions."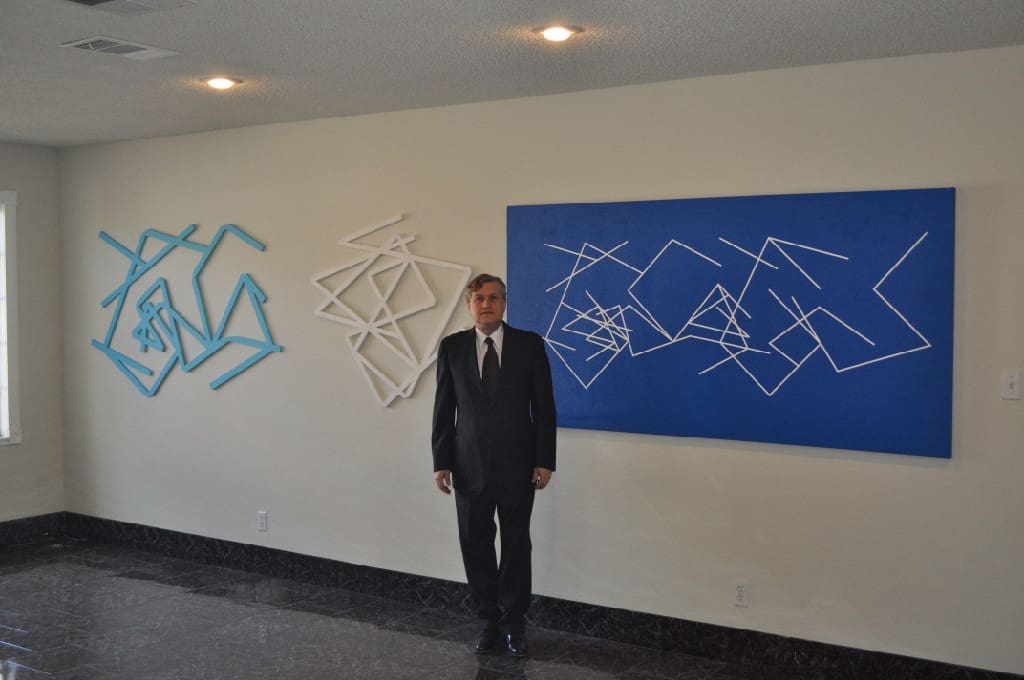 Clifford Singer, Geometrical Clouds Series, 1974 - 2015 ©,
Photograph: Clifford Singer at his Las Vegas art studio 2011 courtesy Flo Singer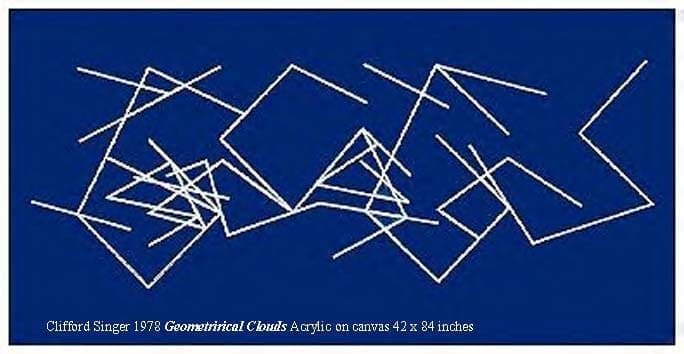 Clifford Singer, Geometrical Clouds, 1978©,  Acrylic on canvas, 42 x 84 inches,
This painting was done in 1978 while in Robert Swain's painting class at Hunter Graduate School
"Working in this fashion had created difficulties for the viewer in that it is contradictory and inconsistent with common experience that is -- actually based in fact. This Geometrical Cloud painting which I had produced in 1978 raised much controversy, considering a broad difference with known reference of works by traditionally known contemporaries such as Josef Albers, Al Held, Kenneth Snelson, as well as Kenneth Martin with his systematic grid work at that time. "
"White Cloud as a wall construction was derived and developed from an aquatint etching that I had done in Vincent Longo's print studio in 1978 and later produced from hand cut plastic with white acrylic as you can see here. The Blue Cloud wall construction was developed from a series of drawings in 1978 and hand cut plastic with blue acrylic that are consistent with my method in producing this Geometric Cloud painting in 1978. It is fascinating to see a Geometrical Cloud painting together with the Geometric Cloud sculptures."
Ivan C. Karp of the O.K. Harris Gallery, New York stated in 1978 "Clifford Singer is the most fierce geometric painter" Clifford Singer © 2012
Nicholas Krushenick told me in 1974, "Cliff, you are only as good as your last painting."
Nicholas Krushenick further remarked, "Albers painted that same square for thirty years."
"I was the one who told Al Held to go to art school." Years later I discovered that Nick and his brother were comedians in the Catskills for many years.
Clifford Singer, Artist/Geometer
Las Vegas, Nevada, USA
Formerly lived and worked in New York's Soho 1977 to 2004. Relocated in the aftermath of 9/11 to Las Vegas, Nevada in 2004 and reside until present.
Contact me at Cliffordhs@aol.com
"As an artist and geometer 'infinity' has taken an important place in my life in terms of abstraction. My art combines both ancient and modern mathematical foundations ranging from Pythagoras to Einstein."
Google: Clifford Singer, Artist
- - to view more artworks and essays by Clifford Singer
http://www.youtube.com Clifford Singer
There are no videos to display right now. Please check back later.